Controlling and Preventing Damp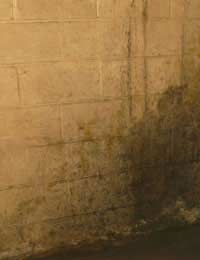 Damp in a house is a problem which if left unchecked, can result in varying degrees of mould growth, damaged décor, wood rot or structural damage, depending on the nature of the problem and its severity. Although often the first symptoms noticed by the householder are the same – bubbling paint and peeling wallpaper – there are three main causes of dampness and the first step in any attempt to control the problem is to identify which is of these is to blame.
Condensation
Condensation is the most common cause of damp in homes and typically the reason is poor ventilation. It may also arise for a number of other reasons, including poor insulation, the use of bottled gas fires – which introduce considerable amounts of water vapour into the air – or leaving vacant houses closed up and unheated.
Poor ventilation is often the result of air bricks being papered over internally, or blocked up outside. A careful inspection of the house should soon reveal if this is the problem and often, simply re-opening them – and fitting a decorative grill if required – can solve the problem altogether.
Poor insulation can be overcome by either cavity wall foam injection or the use of thin polystyrene lining which is hung like wallpaper on the inside and then simply papered over, stopping the walls being so cold and preventing condensation from forming.
Minimising additional sources of water vapour is an important factor in avoiding condensation damp in houses prone to it. Extractor fans in the kitchen and bathroom can also help to increase ventilation and reduce the excess moisture in the air and dehumidifiers can be useful especially during the winter months, though they do add to the overall energy bill.
Rising Damp
Rising damp – also sometimes known as "salt damp" – is generally seen in older properties. The masonry of the house acts as a wick, allowing groundwater to rise upwards through it, by a process called capillarity – rather like a sheet of kitchen roll sucks up spilled milk. The common signs of this problem are characteristic fluffy, white salts on the surface of a wall, usually within an obvious damp-stained area, with signs of mould or decay often also being present in the nearby floor joists and woodwork.
This problem is most frequently the result of a bridged damp proof course (DPC), typically soil having been banked up against the wall, allowing water to get into the brickwork above the height of this important layer of protection. Digging away the soil is generally all that is required for a straightforward solution.
Very occasionally, the cause is a breached DPC. This is certainly not a DIY job and requires the services of a reputable professional contractor, since it involves the use of specialist injection equipment to install a chemical DPC and then re-finishing with a salt retardant plaster.
Water Ingress
Water can enter the house above the level of the DPC in a number of ways, including a faulty roof, poor guttering, leaking plumbing or cracked brickwork.
If the problem appears to be coming from the roof, it is a good idea to first make sure that it is not simply condensation which is often caused when the gap at the eaves has been blocked; if it is, simply open it up; if it is not, find a good roofer. Fixing the leaks in the plumbing or the gutters will solve the damp problems they cause, while having your brickwork re-pointed and any cracks repaired, should stop rainwater coming in by this route.
Identifying the root cause of any damp problem is essential before any attempt can be made to deal with it and, as always, if in doubt, reputable professional help should be sought. While the word "damp" is enough to strike fear into any householder – and some cases can be an absolute nightmare to remedy – in many instances the solution can be fairly straightforward and all that then remains is to scrub away the mould and make good the decoration.
No More Pests is sponsored by Purely Energy, who have funded a lot of our content. If you are looking for a low cost business energy supplier, take a look at their website.
NO MORE PESTS IS FOR SALE.
This website is for sale [more info].
You might also like...