Problems With Feral Pigeons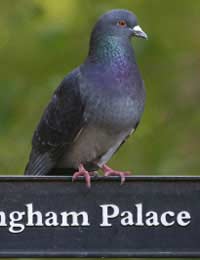 Feral pigeons routinely divide public opinion – while many people value them as part of our wildlife and enjoy feeding them, to many others they are a major nuisance that should be driven from our streets and parks. Originally descended from the rock dove, pigeons have adapted well to living in urban areas, now nesting and roosting on the artificial cliffs provided by our towns and cities. However, for owners of the buildings and monuments they choose to use, the feral pigeon is a major headache.
Pigeon Problems
Roosting pigeons inevitably cause heavy fouling of buildings and surroundings, which is unsightly in itself, but also may be dangerous as the build up of droppings can cause pavements, walkways and fire escapes to become slippery and unsafe. Over time, the acidic nature of their excretions also can prove destructive to property, particularly buildings or monuments made of limestone, which becomes heavily eroded. Gutters and down-pipes can also be blocked with faeces, feathers, food or nesting materials which may lead to water damage or damp problems.
In addition, pigeons can carry a large number of diseases – more than the average rat, according to some studies – including salmonella, tuberculosis and ornithosis – a form of the serious infectious disease, psittacosis. Their droppings, nests and dead bodies often contain a variety of mites, lice and other parasites, which have the potential to infect or infest people and property in the vicinity. Feral pigeons can also harbour diseases which affect other birds, such as Newcastle disease, a serious illness of domestic poultry.
Deterrents
A variety of deterrent measures are available.
Buildings such as railway bridges and arches are sometimes "pigeon proofed" with tightly stretched polypropylene netting to keep the birds from getting in. When newly fitted it can be very effective, but over time it often becomes loose or worn, which reduces its usefulness and also increases the likelihood of pigeons and other birds becoming trapped.
Anti-perch spikes are another successful method for keeping pigeons off ledges. Made from plastic or steel, despite their fearsome appearance they are not designed to harm the birds, but simply to prevent them from being able to land. The standard versions are suitable for sticking to window sills, pipes and ledges, while other kinds have been developed to sit in gutters, which will allow water to drain away, but keep pigeons from settling there.
In the wild, many birds of prey include doves and pigeons on their menu and while for most city dwellers a tame eagle on the window-ledge would be out of the question, some individuals have tried to protect their buildings with plastic model owls and hawks. However, eventually even pigeons will notice that these fake falcons do not appear to do very much and the effect may wear off unless the model is moved around from time to time.
Don't Feed the Pigeons
Most of the problems caused by feral pigeons occur when their numbers grow out of control and this is largely a problem of our own making. In the wild, the rock dove nests once, or at most twice, a year; its urban descendants can breed all year round, each female able to produce up to nine broods a year, though normally only about four clutches of two eggs are actually laid. The key to this extraordinary fertility is the availability of food – and hence the "don't feed the pigeons" message that many local authorities are trying to promote.
Feral pigeons have few natural enemies in the urban environment, apart from nest robbing birds such as crows and large gulls so, except for the relatively small number killed by cats or run over by cars each year, most that survive to adulthood will breed. Restricting the food supply available to them – and to a lesser degree reducing their access to nesting sites – is the best approach to ensuring that pigeon numbers do not grow out of hand. The pigeons will not starve – they just return to the natural breeding cycle of their wild ancestors.
It may be difficult to convince everyone that it is in the best interests of both pigeons and people to stop feeding these apparently endearing, easily tamed creatures, but the reality is that neither side benefits. Aside of the problems they may cause us, the pigeons are themselves forced to become dependent on a distinctly un-balanced and un-natural diet, which has implications for their own health – rock doves were never supposed to eat bread, crisps and take-away scraps!
Opinions on the worth of this widespread bird – a remarkable survivor in our urban world – are probably always going to remain divided, so some kind of compromise is likely to be the only way we are all going to get along. One thing is for sure – like them or loathe them, feral pigeons are here to stay.
You might also like...