What Do You Know About Pets and Pests?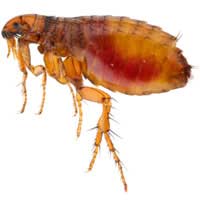 Much as many of us love having their companionship, unfortunately pets can sometimes bring rather more little friends into your life than you'd bargained for – or really want in your home! Keeping your pets pest-free is like most of the rest of pest control; it calls for vigilance and swift action if necessary. That's all very well, of course, if you're clued up on what you're looking for – so what do you know about pets and pests? Why not try our quick quiz to help you find out?
The answers are at the bottom – so good luck!
1. Which kind of flea most commonly infests Britain's dogs?

a) Cat Flea.
b) Dog Flea.
c) Human Flea.

2. What appears to be a wriggling grain of white rice is stuck to your cat's tail after it's finished its toilet business; what are you really looking at?

a) A roundworm.
b) Part of a tapeworm.
c) A tick.

3. What sort of pest causes mange?

a) A mite.
b) A worm.
c) A fungus.

4. Your vet tells you that your pet has ringworm, but just what is it?

a) A mite.
b) A worm.
c) A fungus.

5. Why do ticks often take a while to be noticed?

a) They are almost transparent when young and only darken up as they get older.
b) They only become noticeable when they have started to feed and their bodies swell.
c) They run very quickly through fur and so are hard to spot.

6. How much blood can a cat flea drink?

a) 5 times its own body weight.
b) 15 times its own body weight.
c) 50 times its own body weight.

7. Pests can be spread in strange ways – but which one of these is actually true?

a) Feeding your dog stale bread can give it roundworms.
b) Woodlice carry hamster lice.
c) Flea bites can spread tapeworms.

8. How far can fleas jump?

a) 15 times their body length.
b) 50 times their body length.
c) 150 times their body length.

9. Which word best describes most pet pests?

a) Anthracite.
b) Malachite.
c) Parasite.

10. People often talk about the danger of worms in dog poo, but what is the name of the condition they can cause?

a) Toxocariasis.
b) Tansy.
c) Toclafane.
Answers
1. a) odd though it sounds, cat fleas are the ones that you're most likely to find on your dog!
2. b) it's part of a tapeworm and it's full of eggs to give rise to a whole new generation. Time to see the vet and get those worming tablets!
3. a) mange is caused by mites.
4. c) despite the name, ringworm is actually caused by a fungus.
5. b) ticks only become really noticeable once they have fed for a while and their bodies have begun to swell; before that they are often very hard to spot, especially if your pet has medium or long fur.
6. b) a single cat flea can drink a staggering 15 times its own body weight of your pet's blood before it's full!
7. c) a bite from a flea that has itself been infected with tapeworm larvae is a surprisingly common way for your pet to get a tapeworm; woodlice and stale bread, by contrast, pose no threat!
8. c) fleas can jump an incredible 150 times their own body length; a human would have to clear over 800 feet to equal this feat of insect athletics.
9. c) it's parasite; anthracite's a kind of coal and malachite is a greenish copper-containing mineral (and give yourself a BONUS POINT for EACH, if you knew that already!)
10.a) Toxocariasis; tansy is a plant with naturally insecticidal properties, while Toclafane is a made-up name from Dr Who (more BONUS POINTS for EACH here too.)
How Did You Do?
14 – Purr-fect!
10 to 13 – Furry good!
4 to 9 – Cold nose!
0 to 3 – In the dog house!
You might also like...