Controlling Common Weeds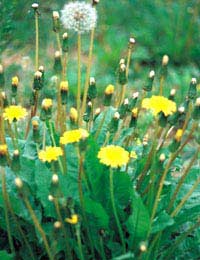 Weeds and gardening are inseparable and anyone who has ever tried to grow anything will be aware how often those plants which you do not want seem to outgrow those that you do. However it is a battle that can be won, with patience, persistence and an understanding of why weeds are so successful in the first place.
Some common garden weeds are "annuals," new plants growing each year from seed, while others, the "perennials", survive from year to year – though they may die back in the winter to pop up again from the same root or underground stem. When your flowerbeds are full of uninvited greenery, this distinction may not be the first thing that comes to mind, but it is important since they require different approaches to control them.
Annual Weeds
Annual weeds – plants such as chickweed, groundsel, annual nettle, fat hen, speedwell, annual meadow grass – spread as persistent seeds, which in some cases are still able to germinate twenty years or more after they were first formed. The seeds tend to be small, to aid their dispersal, but produced in great numbers increasing the chances that at least a few will find a suitable place to grow. A single big groundsel plant, for example may release over 30,000 seeds – though fortunately they do not stay "fresh" for long and need to germinate within two or three years.
The trick with annual weeds is to stop them germinating in the first place and prevent any that do survive from setting seeds. Mulches – thick layers of bark chippings or cocoa shells – laid to a depth of 5cm or more on the surface of the soil keep out the light from seeds; any which do germinate and make it to the surface are usually fairly straggly and easily pulled up.
Many annual weeds germinate at lower temperatures than most garden plants, giving them a head start by getting going earlier in the year. However, this can be used against them. Allowing the weeds to germinate before any other seeds have been sown, they can then be removed either by hoeing or by using a weed-killer, in the knowledge that you are not also destroying any plants you want. Any which do appear subsequently amid the desired plants can be either pulled out by hand or treated with a spot or gel type weed-killer. The goal in controlling these plants is to ensure that they never get to form seeds – or the whole cycle simply begins again next year. As the old saying goes, "one year's seeds, seven years' weeds!"
Perennial Weeds
Perennial weeds, such as brambles, couch grasses, dandelions, stinging-nettles, creeping thistle, ragwort, horsetail (mare's tail) and ground elder (sometimes called "bishop weed") are notoriously difficult to control. The key to their persistence lies in their rhizomes – fleshy underground stems – where they store food reserves. These are often deep and inaccessible, so digging them out is a major task and leaving even the smallest section behind means the plant will grow back in very short time.
Regularly cutting the plant down, or removing its leaves gives a temporary respite, but it will of course re-grow from its underground reserves. However, if the plant is repeatedly stopped from producing foliage in this way, it will not be able to replenish its food stores and will eventually become weakened and die – though this can take many years and obviously demands great determination on the part of the gardener. Covering the weeds with an old carpet or black plastic sheeting to exclude the light does the same job for some low growing, soft perennials, especially ground elder, though again, it does not offer a swift resolution to the problem.
Weed-killers can be effective, but it is important to select the right sort, since "contact" types simply scorch the foliage, leaving the underground sections untouched. For the best results, products containing glyphosate or ammonium sulphamate should be used – "systemic" weed-killers which are absorbed by the plant and travel right down to the roots. Their effects may take a week or two to be seen, but if correctly applied in accordance with the manufacturer's instructions, they offer good control, though it is essential to spray carefully to avoid damage to nearby garden plants.
While any plant growing in the wrong place can be seen as a weed – and several of our most treasured garden plants are weeds in their native lands – there are some plants which, largely due to their persistence and invasive natures, often have no place in our flowerbeds. Though it can seem an endless task at times, they can be controlled, if not entirely eradicated, but it takes patience, determination and a bit of know-how to get the job done.
You might also like...