The Best Forms of Natural Pest Control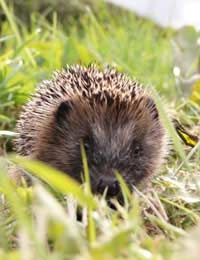 While at least according to the song, the best things in life may be free, the best forms of natural pest control are fairly cheap and ideally cost effective! We may almost automatically think of pesticide whenever the issue of pest control is mentioned, but these artificial chemicals are not the only options available and while some natural methods have a long history, others are less well known.
Physical Methods and Natural Repellents
One of the best ways of controlling a pest is to stop it becoming a problem in the first place. There are many ways that this can be done by simply preventing it from reaching its intended target and there are many types of non-chemical methods which can be used to repel pests. Sharp gravel and copper rings protects plants against slugs, aromatic red cedarwood will keep moths out of your wardrobe and fresh mint is supposed to keep mice out of cupboards.
The same thing applies to the fabric of our homes, since cracks and holes here can let pests in, just as surely as a cut can let infection into our bodies. Timely repairs can be all we need to do to stop any number of pests from invading – from foraging ants to ravenous rats. Prevention is always better than cure and it is almost invariably true that keeping pests out is easier than it is to evict them, once they have become established.
In the garden, a number of plants can be used for natural pest control, grown alongside more vulnerable species to protect them from harm, such as pyrethrum, which naturally produces a very effective insecticide. Many of the best forms are again cheap and easily obtained. For example, some gardeners have also found that chives, garlic and onion, can help keep aphids away, while a whole range of herbs, seem to be very effective natural pest control agents, either grown as companion crops or used freshly chopped or powdered. Rosemary, sage and thyme are said to be able to guard against caterpillar damage, while fennel, wormwood and rue can help control ticks and fleas, especially in domestic pets.
Natural Enemies and Biological Controls
Pests have their natural enemies, which can provide the ideal free control service, being permanently on watch and generally very good at telling friend from foe, leaving beneficial insects alone, for example. The list of gardener's friends includes a wide range of insects, birds, amphibians and mammals and one of the quickest ways to recruit this band of willing helpers is to encourage them to take up residence. A garden pond, for instance, will attract frogs and toads, which have an incredible appetite for all manner of creepy crawlies; a pile of logs may give shelter to a hedgehog or a devil's coach-horse – both of which will eat slugs in abundance.
Ladybirds, consume vast numbers of aphids both when adult and as larvae, while lacewing and hoverfly grubs enjoy a diet of aphids and small caterpillars. Common ground beetles play their part too, eating a wide variety of common pests, including aphids, leaf beetles, weevils, wireworms, chafer grubs, caterpillars, fruit flies, leatherjackets, gall midges, flies and slugs. Even the much-despised wasp performs a useful service eating aphids and caterpillars and helping clear up the remains of dead small animals, while its close relative, the hornet, consumes a huge number of flies and caterpillars.
While many predators eat pests as part of their diet, it is rare for them to be entirely specific. Some types of biological control, however, can be very precisely targeted indeed. New products are available that make use of a microscopic nematode worm, Phasmarhabditis hermaphrodita, which is watered into the soil, to enter the bodies of slugs infecting them with a fatal disease which only affects this particular kind of pest.
The benefits of such precision is clear and work is currently underway to try to produce a similar type of natural guided missile to tackle wire worms, root maggots and even cockroaches.
The advantages of natural pest control are widely appreciated and form a major part of any truly integrated pest control programme. Inevitably, which approaches are suitable largely depend on the type of pest problem being experienced; perhaps in the final analysis, the "best" forms are the ones which actually work for you.
You might also like...