Controlling Garden Weeds Without Chemicals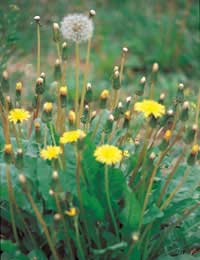 As every gardener knows, trying to stay on top of weeds is something of a life-long occupation. Reaching for the weed killer as a means of controlling weeds has its place, but for one thing it can turn out to be expensive – and for another, a growing number of people feel increasingly ill at ease with the whole idea of using chemicals in their garden.
Controlling weeds without the use of herbicides is neither a quick, nor exactly an effortless solution – but it can be effective over the long term, with the added advantage of being a more natural approach as well as reducing the costs of years-worth of weed killer purchases.
Hoeing
Hoeing is the traditional approach to controlling weeds in the garden – and to do it well requires some expertise, since the trick is to hoe vigorously enough to deal with the weeds without digging so deeply that you risk disturbing the soil around the plants you do want. Like many things – it takes a bit of practice to perfect, but it's certainly a useful skill to learn.
It's most effective against annual weeds – severing the roots of perennial weeds tends to only provide temporary relief until they re-grow from the underground portion; for perennials, a spot of labour intensive hand-weeding is likely to be needed.
It's always a good idea to make sure that you don't let the weeds get too much of a grip before you reach for your hoe.
Mulching
Mulching – putting a good layer of dense, organic matter such as bark chippings, cocoa shells or well rotted manure around plants – is another non-chemical approach to weed control. Add the mulch layer in late spring or early summer, once the soil has begun to warm up – having hoed out the annual weeds first. Any newly sprouting ones can be pulled out fairly easily as the mulch doesn't allow their roots much grip – while any below the 2-3 inch (5-7.5cm) mulch layer will not germinate. Mulching is less effective against perennial weeds, but if you remove any that do appear and keep mulching every year, eventually they will become much less of a problem.
Alternatively, if you prefer, you can use a living mulch. Using good ground cover – such as dense, leafy and freely spreading perennials – to under plant shrubs in the garden borders will reduce the amount of open soil and make it much more difficult for weeds to find a place to grow. Plants such as Euonymus, Euphorbia, Stachys and Vinca are ideal.
Anti-Weed Matting
A less commonly used, but highly effective method of keeping weeds under control involves laying a mat barrier over the soil. There are a number of options including thick plastic sheeting and old carpets, but the best type of anti-weed matting is purpose-made, woven polypropylene sheeting which has small perforations to allow adequate rainwater drainage but remains impenetrable to weeds. Although it's a fairly expensive product, it is very long lasting, so once installed, it will soon repay the investment – which means you'll be doing a good deal less weeding for a long time to come.
This approach is best suited to a new border. Lay the matting over the bare soil and cut crosses to allow for planting – then cover the whole thing with a layer of gravel, pebbles or bark chippings and weeding should soon become a distant memory!
Matting can also work well on established beds. Any existing weeds will need to be cut down or removed, and it's important to make sure that any overlaps don't expose any open soil.
Few gardeners would call weeding their favourite job, but an equally small number would be happy to see their gardens swarming with weeds. Although weed killers have their place in the gardener's armoury, there are other ways to keep things under control without the use of chemicals, which – if done right – can be every bit as effective.
You might also like...