Badgers as a Pest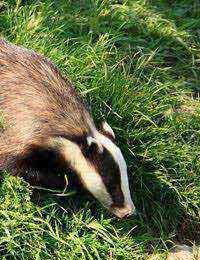 The badger (Meles meles) is probably Britain's most distinctive and instantly recognisable wild mammal – and occupies a unique place in many hearts from a childhood reading of "Wind in the Willows."
Unique amongst its relatives, which include stoats and weasels, the badger lives in social groups – "clans" – with each clan occupying its own home range.
Unfortunately, when a particular group of badgers start to use your back garden as a feeding ground, "Brock" soon looses much of his charm.
Foraging and Feeding
Badgers main staple diet in Britain and most of Western Europe is the earthworm, which they normally take off the top of the ground, on damp nights when worms naturally come to the surface. However, in dry weather, worms can be reluctant to crawl out of their burrows, leaving badgers with little option but to dig for their favourite meal – and the damage a single visit from a badger clan can do to an immaculately manicured lawn has to be seen to be believed!
In addition to worms, they are also partial to a wide range of insects and their larvae, including cockchafers and crane-flies, while being omnivorous, they will also consume fruits, nuts, cereals and even flower bulbs. They are remarkably adaptable animals and will soon learn to make use of any available food supply, raiding bins for scraps and will even sometimes "see-off" cats and dogs if there is the chance of some pet food in the offing.
Unsurprisingly, like foxes, as their numbers have grown, badgers have increasingly begun entering more urbanised areas, where their foraging activities have not been universally welcomed.
Badgers and the Law
The Protection of Badgers Act (1992) protects badgers and their setts, making it a serious offence to kill, injure or take the animals themselves or to interfere with their homes – including blocking them up or damaging them.
The long and the short of this means that any householder – however aggrieved – attempting any sort of direct action against them is likely to end up in some very hot water legal water indeed!
However, there are ways to deal with their unwelcome attentions without risking falling foul of the law and most of them are very simple to do.
Dealing with Badgers
Some kinds of their undesirable activities can be avoided fairly easily – making rubbish containers secure, perhaps by fitting an elastic "bungee" strap, picking up wind-fall apples, tidying away anything edible and not feeding pets outside can make all the difference.
If a number of properties in the neighbourhood are affected, it can be helpful for everyone involved to adopt the same sort of approach – but this can sometimes prove difficult, since some people will happily sacrifice a pristine lawn for the joy of nocturnal badger visits. In these cases, more than a little tact may be required.
Fencing can sometimes prove effective, but it will need to be robust as badgers are surprisingly strong animals, so heavy duty chain link mesh is called for – not chicken wire! Alternatively, electric fences have been used successfully to keep badgers away; suitable types are usually available from agricultural suppliers and run either from the mains or off a battery.
There are other options which are sometimes recommended to help reduce the problem. Ultrasonic devices have their fans, while movement triggered automatic sprinklers – effective against cats and foxes – can sometimes work successfully against badgers too. Killing off the worms and insects in the lawn, for example, will certainly stop badgers being attracted to feed, but the use of pesticides in this way does open up the question of the damage this sort of action has on the beneficial soil invertebrates.
It can sometimes be possible to lay wire beneath the turf, to stop badgers digging through, but this is a big undertaking and needs you to dig up your own garden first – so it is probably only useful as a last resort.
Perhaps the nearest to a "win-win" solution comes when some of your neighbours are more than willing to host midnight-feasts for badgers in their gardens. Providing an alternative food supply can run the risk of making badgers too dependent on people, but for the price of a few tins of dog food, the folks next door get to enjoy their visitors, you get a lawn that doesn't look like ploughed field and the badgers get a full tummy. It's a great way to make everyone happy!
You might also like...