Encouraging the Gardener's Allies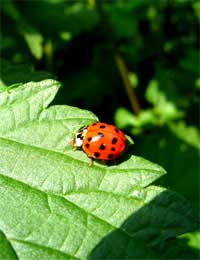 As any gardener knows, there's an almost endless line of insects and other pests ready to take a bite out of our treasured plants – but what we can often forget is that many of these have their own natural enemies too.
With a bit of luck, we can encourage one of two of them to help us out and it doesn't take much to invite a few of the gardener's allies to take up residence in our flower beds and borders. Often all you need to do is provide them with a little food and shelter.
Insect Allies
Just as some types of insects can be the worst pests in the garden, other kinds can be amongst the best friends a gardener can have. Both adult and larval ladybirds, for instance, have a huge appetite for all forms of aphid, while lacewings larva also consume aphids, along with small caterpillars and a variety of insect eggs. If you have these pests in your garden, you have already provided ladybirds and lacewings with the food they need – albeit unwillingly; to really make them feel welcome, you'll need to give them somewhere to shelter.
Leaving an area of the garden to go wild, perhaps adding a few logs for them to hide in, provides ideal cover, although if you prefer something a little more purpose-built, there are many "insect houses" available through garden centres and the like, which are specially designed to make ideal homes for beneficial insects.
Other less well-known insect "good-guys" include many common kinds of beetle, which eat slugs, wireworms, chafer grubs, leatherjackets and weevils amongst other things and hover-flies – major predators of aphids. There are some surprising allies too, including the slug-eating Devil's Coachman and wasps and hornets, which consume sizeable numbers of caterpillars and other pests.
Frogs and Toads
Add a pond to your garden if it doesn't already have one, and you can recruit some of the best allies – frogs and toads. Both will eat a surprisingly large number of slugs and insect pests over the season, so it's well worth trying to encourage a few of these amphibians to take up residency in your garden.
It's important to remember that these animals need both good watery and land environments to feel properly at home. Leaving an area of undisturbed ground to go wild – especially around the pond or bog garden – will certainly be appreciated as will a few old logs or slates left at the back of the border for them to hide under during the day.
Make sure the pond itself offers an easy way out both for the adults and the young froglets and toadlets that you'll hopefully be breeding. If you do eventually manage to get a permanent garden population, your plants are going to be protected by some of the best natural pest control you can get – and all of it for free!
Encouraging Hedgehogs into Your Garden
Most people have a fondness for hedgehogs – and gardeners particularly so – since they have a wonderfully voracious appetite for slugs, snails and other common invertebrate garden pests. Encouraging them into your garden could hardly be easier – offer them some piles of leaves or twigs to nest in and they'll repay the small kindness with a first-rate pest control service.
There is also a range of specially-designed hedgehog houses available from garden centres as well as various animal charities and wildlife organisations which provide a ready-made home for these prickly nocturnal visitors.
Giving them a little supplementary food can also be a good way to make them feel that they've found a good place to stay. Pet food, peanut butter and meat leftovers are ideal, but avoid the "traditional" bread-and-milk – it can upset their stomachs – and remember to clear up any food that hasn't been eaten by the morning to avoid attracting vermin.
Garden pest control can often seem an uphill struggle, particularly since there seem to be so many insects and other creatures waiting to make a meal out of our plants. However, they don't have it all their own way in nature and there are a reassuring number of animals ready to help out, so it's well worth taking the time to try to encourage a few of them to come and stay.
You might also like...