Mould and Mildew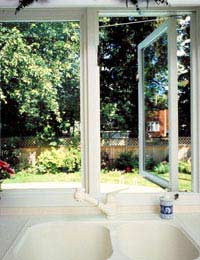 Mould and mildew are both forms of fungi and their microscopic spores are constantly in the air both indoors and out, only becoming a problem when they find the right conditions in which to grow. Usually developing in dark, damp, forgotten places, they can often live unseen for a long time before their presence is noticed, by which time a serious infestation – and an atmosphere rich in new spores – has been established. Aside of being unsightly and damaging to the décor, for some people, their presence can pose a serious health risk too.
Eradicating mould and mildew from our everyday environment is impossible; the spores are ever present. However, we can control these fungi, principally by understanding how they get a grip in the first place and then by banishing the sorts of conditions they need from our homes. The main culprit is moisture.
Moulds and Moisture
Moulds and mildews require relatively high levels of humidity to form – so a room that is constantly or regularly damp is an ideal candidate for fungal infestation, particularly if it contains hidden areas which can retain water and shelter the developing mould from sight. The bathroom is an obvious favourite, where high humidity, poor ventilation and the presence of leaking or wet water pipes behind the panelling or walls produce ideal conditions for them to grow. Regular showering or bathing often accelerates things, either by introducing water through poorly sealed joints between the tub and its surround, or by steaming up the walls.
Kitchens too can often host a mould problem, though anywhere where condensation forms can be a site for spores to settle and grow.
Condensation itself, which is the most common cause of dampness in a house, depends on three factors – the amount of moisture produced within the building, the level of ventilation and the effectiveness of insulation. Controlling condensation – and by the same token, mould growth – requires each of these to be taken into consideration.
Solutions to Mould and Mildew
Reducing the amount of water released into the atmosphere may be difficult in the bathroom, but within the kitchen, simmering rather than using a rolling boil can help reduce much of the condensation. The use of bottled gas fires should also be avoided in the house, since they can introduce considerable amounts of water vapour into the air.
Poor ventilation is often a sign that air bricks have been papered over or blocked up and it is usually a simple matter to open them up again. Alternatively, fitting extractor fans in the worst affected areas – or simply opening the windows when possible – can greatly increase air-flow and reduce internal humidity.
If the insulation is poor, condensation will develop on cold walls and often the presence of mould on the wall paper is the first indication that there is a damp problem here. Having the wall cavity injected with foam or hanging thin polystyrene lining between the wallpaper and the wall should help stop condensation forming, though if the problem still remains, then it may be worth considering a de-humidifier.
There are many proprietary brands of cleaners that will remove moulds from a variety of surfaces, but for some places a good old-fashioned solution of bleach in water is hard to beat. Spray-on fungicide products can be used to kill any remaining mould or mildew growth and if the tiling has been badly affected and it is necessary to re-tile, a fungicide-containing grout should help prevent any residual spores from growing anew.
Health Concerns
Some people are particularly sensitive to moulds and may suffer from a variety of allergic responses, such as conjunctivitis, nasal congestion and wheezing, while others may display even more severe reactions, including fever and extreme shortness of breath. The spores may also be a problem to non-sensitive individuals if the exposure continues for a long time and people with impaired immune systems perhaps as a result of an existing long-term illness or other prior infection may also be at risk.
Although the spores of only a relatively small number of the world's many fungi commonly pose a serious health risk, any suggestion of a mould-related illness should be thoroughly investigated by a doctor – and the original problem solved.
Though their spores are all around us and we cannot avoid them, by managing our surroundings we can at least control mould and mildew, minimise the damage to our homes and risk to our health. Denying fungi a foothold in our homes often simply requires a little effort to identify the root cause of the damp, rectify it and then tidy up the cosmetic damage.
You might also like...