Thrips and Their Allies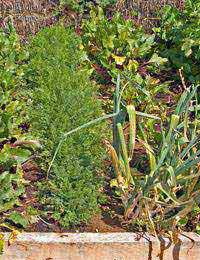 Thrips – slender and usually dark-coloured insects, seldom more than 2mm long – are a pest of almost all types of plants, especially garden flowers, agricultural crops, fruits and vegetables, rasping their way through the leaves to get at the sap. Sometimes called "thunder-bugs" or "thunder-flies" because of their common habit of appearing in swarms during thundery weather, there are around 3,000 species spread throughout the world, with over 150 kinds being found in the UK.
They can be a particular problem for onion growers and Thrips tabaci, the Onion Thrip, along with some of its relatives, can also be responsible for spreading the Tomato Spotted Wilt Virus – a disease which is not just confined to tomatoes alone.
Fortunately there are a number of solutions to dealing with the nuisance posed by thrips and their kin, including traditional insecticides, organic methods and biological controls, so there is something to suit whichever approach to pest control you prefer.
Controlling Thrips
The first step towards controlling thrips is recognising the signs of an infestation – and as quickly as possible, since the sooner treatment begins, the better. These small, elongated insects can be surprisingly difficult to spot. Often the first sign that any of your plants are suffering is when their leaves begin to go a dull green colour, usually with a silvery white sheen on the top surface – marking the places where the bugs have been regularly feeding. Unfortunately these symptoms can sometimes be mistaken for the appearance of mildew or mould – and spraying the affected plant with fungicide will do nothing to eradicate the real cause of the problem.
Careful examination of the leaves, however, should enable you to spot the tell-tale signs of thrip infestation. You may be able to see the pests themselves crawling over fresh, tender growth and keep an eye out too for small blackish coloured spots of droppings, or eggs laid on young leaves or flower buds. You may also come across the larvae, which are paler versions of their parents, though without the adults' feathery wings. White flecking on the petals can also often indicate thrip attack and new flower buds may be distorted when they open – or they may simply not open at all. New growth may also be curly or brown.
A wide range of pesticides are effective against these pests, including those containing pyrethrin, methiocarb or bifenthrin, Bayer Ultimate Bug Killer, Doff All In One and Scotts Bug Clear being some of the many commercially available products ideal for the job. As always, it is important to use any insecticide in accordance with the manufacturer's instructions and if you need to treat vegetables or other edible plants, make sure that the one you have chosen is safe to use.
For organic growers, thrip control can be achieved by using suitable approved plant oils – products such as Vitax Organic 2-in-1 or Growing Success Fruit & Veg Bug Killer for example – and removing and burning damaged leaves and flowers. Alternatively, biological control methods such as releasing the predatory bug Orius laevigatus or Amblyseius cucumeris, a mite – available from some garden centres and online or by mail order from specialist suppliers – can prove very effective, especially in greenhouses.
Prevention
As with most pest species, prevention is far better than cure, so it is well worth taking the time and trouble up front to minimise the chances of problems developing in the first place. Giving the greenhouse a thorough clean is useful to evict over-wintering thrips – they tend to be a summer pest, thriving in warm, dry conditions, so denying them comfortable quarters during the colder months can be a big help in preventing problems later. A variety of sticky-traps are available to give early warning of a build up in numbers – and there is some evidence to suggest that blue coloured ones are the most successful, though no one seems entirely sure why. In addition, some gardeners have found that using horticultural fleece, or fine-mesh nylon netting to form a physical barrier around particularly susceptible plants can also be helpful.
Although when left to their own devices, thrips can cause a surprising amount of damage for so small an insect, a modicum of prevention, coupled with vigilance and swift treatment if they are detected should enable most gardeners to avoid the worst of their attentions.
You might also like...