Keeping Your Home Hygienic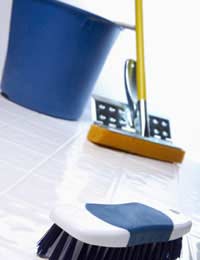 In the fight against pests and disease everyone appreciates the need to keep the home clean and hygienic, but in any battle, time and resources are always going to be limited. Blitzing everything in sight with bleach and detergent is time consuming, but more importantly, it is also rather pointless since you will never kill every bug and even if you do, more will be ready to take their place – hitch-hiking into your home on a daily basis. The trick is knowing where to concentrate your efforts for maximum effect – so where are the real potential trouble spots and what do you really need to do to keep your home hygienic?
Bathrooms and Kitchens
The bathroom is almost always singled out for massive chemical attack but, while it is true that a dirty toilet or shower head can be home to a vast profusion of bacteria, unless someone in the household is not very well, it really is not necessary to be too obsessive. Cleaning and disinfecting the toilet, shower head, tiles and so on fairly regularly is probably all that is required – not forgetting to change the towels too, as wet ones can prove very popular with bacteria.
The kitchen, of course, deserves particularly thorough attention. Though most people would consider a toilet seat potentially unhygienic, the average kitchen cloth is likely to have far more germs hiding on it. Regularly changing these and thoroughly washing/bleaching the non disposable type is a must. All food preparation surfaces and chopping boards need to be kept clean and disinfected – and washed and wiped down after use – and any spillages in the kitchen or dining area should be dealt with as soon as possible. Not only will bacteria happily multiply in forgotten food, but it can also serve to attract larger pests too, such as beetles, cockroaches, mice and even rats, all of which will take more than a simple swish of cleaner to remove. By the same token, avoid leaving food out in the kitchen, especially in the warmer months when flies are prevalent. Prevention is definitely easier than cure!
Floors and Drains
Although floors should obviously be cleaned and carpets regularly vacuumed to remove dust, dirt and house mites, which are a major cause of so-called "dust allergy", again there is no need to be too obsessive. Far more important is to wash or wipe down door handles, telephones, taps, switches and other surfaces which many people touch daily, since a number of diseases can be spread in this way.
Drains can often offer a hiding place and a free meal to a surprisingly large number of unwanted visitors, both large and small and a clogged, smelly drain is a definite potential health risk – disinfect sink, basin, bath and shower plug holes.
Pets and Hygiene
Although household pets can be a potential source of infection to us and our families, many of the most likely problems can be avoided in the course of responsible pet ownership. While it is possible for our pets to pass a whole host of fleas, ticks and worms on to us – not to mention a variety of diseases – routine precautions, worming and vaccination will very largely prevent this from happening. Ensuring that our pets' toilets are not where our children play, cleaning up after them and disposing of their droppings properly will go a very long way to stopping any other problems from developing.
Cleaning a house is hard work, but it really is not necessary to kill yourself to keep you and your family safe. By concentrating on a few key areas, where the risks are greatest – especially around food and where there is a high degree of hand contact – most of the common dangers can be avoided and you should be able to keep your home pest and disease free.
You might also like...