Common Home for Pests: Nooks and Crannies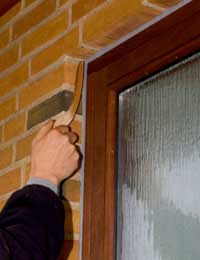 Often when we think we may have a problem there is a natural tendency to concentrate on the pest itself, rather than considering the wider questions of why it has become a nuisance, how it has managed to get into our homes or gardens and where it may be lurking. Almost without exception, pests enter our lives in search of food or shelter and frequently find either or both in the nooks and crannies around our houses which we so easily overlook. Most types of pest are quite small – but even larger ones such as rats and foxes can make good use of a surprisingly little amount of vacant space, if we let them.
Inside
Many different types of pests will happily shelter alongside us, in forgotten spots within our homes. Some of them, like woodlice, will have wandered in simply for shelter; others will have been drawn in by the lure of dropped food scraps, while others, such as bedbugs, will be skulking in crevices waiting their chance to feast – on us! If a pest problem is suspected, often one of the best ways to find out the culprit is to trace it back to its hiding place. Sometimes there will be tell-tale signs, such as droppings or discarded food to give the game away, but often it is not easy since in most modern houses there are just so many possible places to lurk. A variety of bugs have been found within furniture, gaps in window or door frames, joins in the wallpaper, underneath carpets and even unlikely places such as power sockets, electronic equipment or smoke detectors. Even relatively large pests, such as mice or rats, can make use of remarkably small gaps in kitchen cupboards, under doors or around pipes to enter our homes.
Outside
In much the same way as our own skin keeps out bacteria, in many ways the outside of our homes is a protective layer against pests and just as a cut can let infection into our bodies, cracks and holes in the fabric of our houses can allow pests in. Gaps in doors, cracks in masonry, crevices beneath peeling paintwork and rotten wood can all either harbour unwelcome guests, or worse still, give them an easy passage inside.
These sorts of breaches in our defences can leave the way open for invasion by everything from foraging ants to ravenous rats. While it is important to make sure that our general standard of hygiene and cleanliness within the house does not encourage pests in the first place, it is just as important to close off any nooks, crannies or chinks in our external armour which may afford them any advantage. The same approach should be applied to sheds, garages and other outbuildings too, since all manner of pests – from wasps to foxes – can make use of appropriately sized holes here too.
In the Garden
If pests are good at exploiting nooks and crannies in and around our homes, then they excel themselves in the garden. From the inside and outside of sheds and greenhouses, to the smallest fissure in the bark of ornamental trees, something will have found a place to hide. This may be a problem during the summer months, when common pests can seem to miraculously escape all attempts at control by sheltering within flower buds and then, with the onset of colder weather, many will seek out safe places to go over-winter. Carefully cleaning all the potential nooks and crannies within the greenhouse as autumn comes around should go a long way to ensuring that the following year does not start off with a bumper crop of hungry pests – from aphids to vine weevils – perfectly placed to ruin the springtime blooms.
As with so much of pest control, forewarned is forearmed and it is always easier to avoid any form of infestation, than to deal with one once it has become established.
Regular inspection of the nooks and crannies inside, outside and around our homes and gardens – knowing what to look for and where to look – can be a very useful part of any pest prevention programme.
You might also like...