Ten Top Tips for Avoiding Pest Problems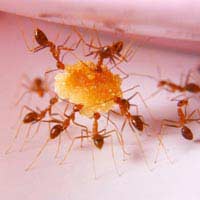 An ounce of prevention is worth a pound of cure; when it comes to pest problems, that old proverb has never been truer. It's always better to keep the little blighters out of your home and your store cupboards in the first place than try to evict them once they've got themselves nicely established and this isn't the impossible task that it might seem. With that in mind, here's our top 10 collection of simple tips to help you keep unwanted guests at bay.
1. Be Careful With Food
The chance of a free feed is what most pests are after and if you make getting one too easy for them, they'll be glad to take you up on your kindness – so try not to make that invitation in the first place! Store food properly, use good strong containers and don't leave your cupboards undisturbed for too long – you never know what might be setting up home there. Whether you're eating indoors or outside, if you always clean up spills and clear away leftovers promptly, you shouldn't have too many problems. It's all about the obvious things really – a little old-fashioned good-housekeeping really does go a long way!
2. Take Care Of Routine Maintenance
It may only be a gap in the woodwork or a small hole in the wall to you, but for many kinds of pests, that's as good as leaving the front door wide open. Routine maintenance to keep the fabric of your house in good repair is the domestic equivalent of an internet firewall – it'll help keep out unwanted visitors.
3. Clean Up After Your Pets
Pets are great things, but never forget that almost any kind of animal you keep can attract pests, so keep their conditions as clean as you can and clear up uneaten food, and dispose of soiled sawdust and used bedding carefully. According to country lore, rats can smell chickens from five miles away; whether that actual distance is true or not, one thing's for sure, they certainly can spot a good feed from a long way off, and they really aren't the sort of guests you want to invite into your back garden!
4. Be Careful With Your Rubbish
Recycling is all well and good, but that doesn't include recycling your rubbish into pest food. Make sure you keep food waste in a secure container and you shouldn't be troubled by the usual army of hungry wasps, flies, rats, foxes and stray dogs that always seem to be lurking around in search of an easy meal.
5. Plant For Prevention
Every keen gardener knows only too well all about the ongoing battle that has to be fought against a whole range of garden pests to keep plants healthy and in good condition. Growing some natural pest-repelling plants in amongst your prized blooms, or favourite vegetables can be a very effective way of keeping pest problems to a minimum – and many of these companion plants are worth having in the garden anyway. Herbs such as rosemary and sage, for instance, have good insecticidal properties, while wormwood (
Artemisia
), with its striking grey-green foliage, is widely recognised as one of the best anti-pest plants of all.
6. Get Some Free Help
There's plenty of free help available, especially to deal with garden pests. A whole range of other creatures are more than happy to make their own meals out of troublesome slugs, snails and many of the common insect nuisances – so enlist a bit of aid! A wildlife corner and a spot of clever planting should soon see ladybirds, lacewings and hoverflies patrolling your flowerbeds and don't forget what frogs, toads, hedgehogs and many common garden birds can do to help. Encourage some of the pest's natural enemies to visit and you'll be amazed at the difference.
7. Check Regularly
Get into the habit of checking vulnerable plants, food cupboards, stored winter woollies and so on for evidence of pest attack. You don't have to be obsessive about it, but remember pests like to go about their business in secret; just the act of checking those dark corners and hidden spots fairly regularly helps put them off.
8. Learn The Signs
Take a few minutes to learn the signs of pest activity. Depending on what's being affected, wilting leaves, damaged food containers or sudden itches can all signal trouble, so it's worth knowing what you might expect to see in advance.
9. Expect Trouble!
The sad truth is, pests are very good at what they do, which means that sooner or later you're pretty much guaranteed to come across something that's making a nuisance of itself. The trick is not to let it get too much of a hold, so always be prepared; if you expect trouble, you'll be better able to deal with it when it comes.
10. Don't Do Denial
There's another proverb that applies to pest problems – a stitch in time, saves nine. Prompt action is essential if you do discover something amiss, so don't delay. It really is much easier to deal with the beginning of a problem than one which has been ignored, so the quicker you accept what's happened, the better you'll be able to deal with it.
Although pests themselves come in all shapes and sizes, for the most part they all want much the same things as we do – something to eat, somewhere to live and a place to bring up a family! The trick to avoiding pest problems lies in denying them what they want – or at least making life so difficult for them that they go off in search of someone else to bother. Good luck!
You might also like...