A Who's Who of Kids' Pest Problems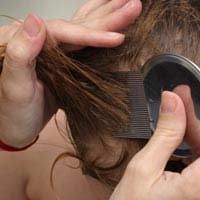 Pests make no concessions for age. With very few exceptions, the range of parasites and other assorted "nasties" that lie in wait for you, lie in wait for your children also. From ticks to tapeworms and from ant bites to wasp stings, kids are as vulnerable as their parents.
There is, however, a small group that, for one reason or another, seem to be if not exclusively a youngster's problem, at least very largely so. Here's our who's who of the three worst offenders.
Threadworms
Threadworms are thin, small worms which live in the bowel and although they are particularly common in children, anyone can be infected. At night, the females make their way out through the anus and lay their eggs on the surface of the skin – and the resulting itchiness causes children to scratch around their bottoms, often trapping the microscopic eggs beneath their finger nails. A finger-in-the-mouth later and the cycle of infection begins again.
While the whole idea is an undeniably rather revolting one, fortunately threadworm infestations are seldom serious and effective treatments are readily available from your pharmacist or doctor.
If you keep an eye out for any signs of "scratchy-bottie" or the worms themselves – they look like short threads of white cotton – and act quickly, there's not too much to worry about, although it is important to treat all the members of the household. Not everyone infected shows symptoms, and eggs, which are almost impossible to see with the naked eye, can be blown onto food or toothbrushes, making it easy for the worms to be passed between people.
Head Lice
If you've been told that head lice only infest people with really dirty hair, then now's a good time to think again! It's simply not true – and there's even some evidence to suggest that they actually prefer cleaner heads. Neither, it seems, is hair length a factor.
Growing to around 2mm in length, these grey/brown invaders live on the scalp and around the neck. Females can lay up to six eggs a day – the "nits" you can sometimes see attached to individual hairs – and since she can live for around three weeks, that can soon add up to a lot of unwanted guests.
A common problem in the under-11s, head lice seem to be especially prevalent in girls – mostly because they are more likely to literally put their heads together, thus affording the lice a chance to jump ship and find a new home. The symptoms often include itchiness and some scalp irritation, but not everyone seems to suffer, so infections can often pass unnoticed for some time. Since the lice are almost impossible to see with a casual look, the only way to be sure is to examine your child's head very carefully. Head lice are, after all, the real origin of the expressions 'nit-picking' and a 'fine-toothed comb'! Once again, a range of easy to use treatments are available without prescription to deal with any you do find.
Toxocariasis
Dog poo can make your kids blind – or can it? Every year this one seems to hit the headlines, leaving dog owners and dog haters spouting their own particular brand of propaganda, but how big is the risk really? Can dog poo cause blindness? Well, the straight forward answer is, yes, it can – but it's really very unlikely to do so, and here's why.
To start with, toxocariasis – the infection caused by a roundworm parasite known as Toxocara canis, which unwormed dogs most certainly can carry – is a very, very rare thing. According to the NHS, there are only around 10 cases on average in England a year, and the one which affects the eyes – known technically as ocular larva migrans – is by far the least common, though obviously it is unquestionably the most serious form of toxocariasis.
Although it can affect anyone, the under-4s tend to be at most risk from toxocariasis, principally as a result of their playing habits and their propensity to eat soil, which obviously brings them into direct potential contact with worm eggs. Fortunately, with prompt and proper treatment, a quick recovery is almost certain and few people suffer any long-term problems. As the NHS point out, with the advances in treatment now available, the chances of blindness due to toxocariasis is now very small indeed – though that's obviously no excuse for dog owners to lighten up on their worming regime!
Keeping your kids safe calls for exactly the same things as warding off any other kind of pest – prevention, vigilance and prompt action. Deeply unpleasant though the prospect of any of these three is, the good news is that with care and timely action, you shouldn't have too much to worry about.
You might also like...