Questionnaire: Insect Friend or Enemy?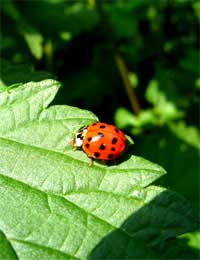 Far and away the largest group of the animal kingdom, insects are one of nature's most persistent and enduring success stories. Insects are found just about everywhere on the planet, and if there's a food-source to be exploited and a place to live, you're bound to find at least one kind that's come up with a way to make the most of the opportunity.
Unfortunately, that often brings them into our homes and gardens on the look-out for an easy meal – whether that's your cabbages, camellias or clothes – making hungry insects very bad news! While insect pests are always on the hunt for something to eat, fortunately they also make very good meals themselves for a whole host of animals – and often they're favourites on the menu for other insects too.
So how well do you know your enemies – or your allies? Can you tell friend from foe, or do you treat anything with six legs in exactly the same way – a quick swat or a squirt with insecticide ? Try our quick quiz for a bit of fun and test your knowledge of the insect wars raging outside your back-door.
The answers are at the bottom; good luck!
1. Ladybirds are often called "the gardener's friends" – but why?

a) They eat large numbers of slugs.
b) They eat large numbers of aphids.
c) They help pollinate.

2. What is a leather-jacket ?

a) The larva of the woodlouse.
b) The larva of the crane fly.
c) A kind of eel-worm.

3. Tent caterpillars definitely count as "enemies", but why are they so named?

a) They stitch plant leaves together to form a protective tent.
b) They spin silk to make a tent-like structure over plant shoots.
c) The hatch from eggs laid in tents, and then eat the fabric.

4. Why are lacewings welcome in the garden?

a) They eat large numbers of slugs.
b) They eat large numbers of aphids.
c) They eat wireworms and cyst worms.

5. Everyone knows about honeybees – but what about solitary bees; friend or enemy?

a) Friend
b) Enemy

6. What about the Devil's Coachman?

a) Friend
b) Enemy

7. What is affected by the Rosemary Beetle?

a) Rosemary
b) Peach trees
c) Potatoes

8. What is affected by the Flea Beetle?

a) Fleas
b) Pea plants
c) Cabbage seedlings

9. True, or false ?

a) Maggoty peas are actually the fault of pea moth caterpillars.
b) Water lily aphids chew holes in the stems and roots of water lilies.
c) Vine weevils only affect vines.
d) The gall midge is a major pest of blackcurrants.
Answers
1. (b) Ladybirds and their larvae eat large numbers of aphids.
2. (b) The leather-jacket – a serious lawn pest – is actually the grub-like larva of the crane fly (sometimes called the daddy-long-legs).
3. ( b) Tent caterpillars are named after their habit of spinning silk to make a tent-like structure– and then eating the tender plant shoots underneath.
4. (b) They eat large numbers of aphids, so it's well worth thinking about buying one of those 'lacewing hotels' from your garden centre, if you're troubled by greenfly.
5. (a) Solitary bees are definite friends and help pollinate a huge range of plants. Around 90 per cent of Britain's bees (some 270 species) belong to this group.
6. (a) The Devil's Coachman (also known as the Devil's Coach-horse or Devil's Footman) is a large black carnivorous beetle that eats a number of different kinds of invertebrate pests including slugs – so a definite friend.
7. (a) Rosemary – just as the name suggest.
8. (c) Just to be confusing, the flea beetle attacks young cabbage seedlings, biting small holes in their leaves. The name comes from the fact that it jumps a bit like a flea when disturbed.
9. (a) True; pea moth caterpillars make peas maggoty. (b) False; although water lily aphids do attack water lilies, they suck sap and don't chew holes. (c) False; vine weevils don't only affect vines, being a major pest of a range of pot plants as well as raspberries, strawberries and gooseberries too. (d) True: the gall midge is a major pest of blackcurrants. Its small maggot attacks the leaf tip, causing curling and discolouration and eventually the leaf turns black. If the infestation is heavy, badly affected shoots may die.
How Did You Do?
12, Head gardener!
9–11, Gardener's friend
4–8, Getting friendly
0–3, Finding friends
You might also like...