Unexpected Benefits of a Wildlife Pond: Case Study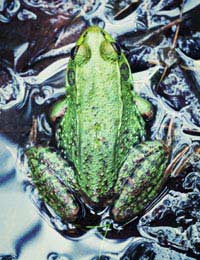 "It's all Lizzie's fault", laughs Carol Mosley, "she was the one who badgered me into having the thing in the first place!"
Lizzie is Carol's 9-year old daughter – and intensely passionate about wildlife. When she and a few friends found some tadpoles in a rapidly drying out pool at a nearby disused site, they didn't waste much time launching their very own rescue operation. Several jam jars – and evidently a good bit of "badgering" later – saw Carol, husband Peter and budding naturalist Lizzie heading off to their local garden centre in search of materials to build a brand new pond to house the brood of developing amphibians.
Wildlife Welcome
By the end of the weekend, the family garden boasted a small, but very respectable, wildlife pond and after a week or two for water to mature, in went the plants and then the tadpoles – which were by now beginning to outgrow their temporary quarters.
As the summer moved on, Carol began to notice that more wild visitors seemed to be dropping in than in previous years. "Once we'd built the pond," she explains, "we thought it would be a good idea to make a bit of a wildlife area around it – sort of go the whole hog, now we'd started – and Lizzie thought it was a brilliant idea!"
They keep a diary, cataloguing the creatures that they've seen – and it's an impressive list of songbirds, beneficial insects and even a hedgehog or two, along with the frogs, of course. From Carol's point of view as a keen gardener, the benefits of having a wildlife area have surprised her. "Everyone talks about encouraging gardener's friends, but it wasn't until we'd got the pond that I really understood what they were on about. I wish I'd known how much unpaid help I could have got for just leaving a corner of the garden to go a bit wild years ago."
Saving Time and Money
While she's the first to admit that it's difficult to be certain, Carol feels that she's spent less money, and a lot less time, on trying to deal with pests over the two and a bit years since her daughter arrived back home with that first jar teeming full of tadpoles.
"It's not very scientific," she says, "but previously I felt like I was always fighting a losing battle, especially with the slugs and greenfly, but these days between the hover flies, ladybirds and all the rest, there really doesn't seem to be anything like the problem there used to be. I suppose I could be imagining it, but I honestly don't think so."
Embracing Natural Pest Control
Keeping pests at bay at the Mosley household almost exclusively used to mean reaching for the appropriate pesticide, but since the arrival of their pond, Carol has come to embrace the idea of natural pest control wholeheartedly. "Well," she confides, "you'd have to be some kind of idiot not to, when you can see the benefits with your own eyes, now wouldn't you?"
Those benefits may have been somewhat unexpected, but they certainly haven't been allowed to pass unnoticed. Today, their walls and fences sprout bird and butterfly boxes, there are bee logs to be seen, along with a couple of hedgehog homes and a very frog-friendly bog garden beckon. Carol's clearly out for all the unpaid help she can get – and by all accounts, it's working.
So how does Lizzie feel about all of this? She couldn't be happier; " it's great, 'cos I really like frogs," she says – and as we all know, frogs really like slugs, so mum likes frogs too. Everybody wins!
You might also like...
Pond Sealant - Your Question:
How sweet and the charming story has been shared. I was seeking something with respect to pond repair and got the best Pondpro2000, however, your post made me interested.
---
Our Response:
The insect and animal world always sorts itself out naturally - it's our intervention with pesticides etc that causes the problems. best of luck with your Pondpro 2000 and thanks for the share.
NoMorePests
- 29-Mar-18 @ 11:11 AM
How sweet and the charming story has been shared. I was seeking something with respect to pond repair and got the best Pondpro2000, however, your post made me interested.
Pond Sealant
- 28-Mar-18 @ 11:18 AM