Memories of a Rat Man: Case Study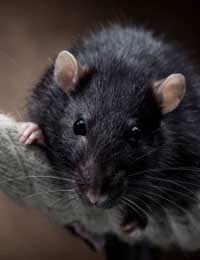 "Environmental health operative?" Bill Percox laughs, "nah; not me! It's all got a bit high falutin' these days – when I joined I was a 'council rat man' as simple as that."
Now nearing his nineties, Bill came into professional pest control by accident just after the Second World War, when jobs were difficult to come by in his part of England. "I wasn't long demobbed and I hadn't got a clue what I was going to do. I mean, I was only 16 when the war started, so once I'd been called up, being a soldier was all I'd known as an adult and I knew I didn't fancy doing that for the rest of my days!"
Farthing a Tail
A chance meeting with a friend of a friend told him that the local authority were looking for rat-catchers to deal with a small, local rodent plague that had sprung up around the disused factories and bombed-out houses. It didn't pay well, but Bill – thinking about getting married and settling down – needed a job. "As a boy I had a Jack Russell – great little ratter he was – and we used to do the rounds of the local farms; they'd pay a farthing a tail back then. Mind you I had to be quick, or Pickle would eat the whole rat and I'd get nothing! So I reckoned I'd already made a tidy bob or two, ratting; didn't see why I shouldn't do it as a real job too."
A Different World
"It was a different world back then," he remembers, contrasting today's health and safety with things then. "Don't get me wrong," he explains, " we were careful – course we were – but it wasn't quite so hide-bound. I mean, none of your EU Directives and such back then! The training was pretty basic, but it was thorough – especially when it came to the stuff on the Poisons' Register. I still recall signing for my first bottle of arsenic – like something out of Miss Marple!"
"The thing I think I remember most vividly was the first time down a sewer. We used to bait them up quite regularly, you see, and that meant lifting the ironwork on the road and then climbing down. That was very strange – so quiet and dark and yes," he adds, "pretty smelly too. After a while though, you don't really notice."
Birds, Wasps and Foxes
Of course, despite officially being a 'rat man' Bill wasn't only limited to exterminating troublesome rodents; his days and nights were spent on the trail of a range of other pests too, dealing with everything from wasps' nests and ants, through to pigeons, starlings and, increasingly, urban foxes.
"I didn't like having to deal with the pigeons, to tell the truth," Bill confesses. "My granddad used to keep pigeons before the war and I've always had a bit of a soft spot for them, but the trouble is there's become just so many of them. You had to do it – it was your job, so you didn't have much choice – but I never really liked that part."
Changing Times
Although he made his way up the ranks in what eventually became – to his noticeable amusement – known as the "Environmental Health Department", he always preferred a hands-on approach, trying to keep up to date with developments in the field.
"The last ten years before I retired really were changing times," he explains. "Legislation was changing, lots of wildlife law and agricultural practice changed and that had an effect on what we did too. It wasn't just the equipment or the methods that changed. We started seeing things that we hadn't really had to deal with before – badgers and foxes coming into people's gardens, and weird things like dumped terrapins and escaped snakes. It was a strange old time. In fact, some of us old hands even used to kid on to the new comers that there was an alligator down in the sewers. It was rubbish, of course, we'd heard some-such about it in New York, so we thought we'd have a bit of a joke; it wasn't very kind, but it was blooming funny!"
He may be nearly 90, but there's a definite spark in his eye as he remembers; the old rat man's sense of humour certainly hasn't deserted him.
You might also like...