Common Questions About Weed Killers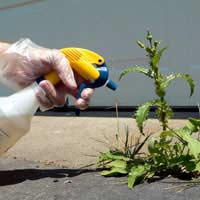 Weeds can be notoriously difficult to control, especially once they've managed to get established, so it's little wonder that weed killers are amongst the most valued tools available to gardeners and growers.
While everyone knows about the potential benefits of weed killers, for all their familiarity, there are still some things about them that can often cause a bit of confusion – so here's our attempt to answer a few of the most commonly asked questions.
What's the difference between a "selective" weed killer and a "non-selective" one?
A non-selective weed killer can harm all kinds of plants – your fine lawn grasses and prized garden flowers as well as the weeds in your borders. Glyphosate weed killers are a typical example of this kind. Selective ones, on the other hand, will kill some kinds and leave others alone – so you need to read the label carefully to make sure which types won't be affected. Weed killers made to kill lawn weeds are the most usual kinds of selective weed killers on the market – products containing the likes of dicamba or clopyralid, for instance.
I've heard people talk about "contact", "residual" or "systemic" weed killers; what's that all about?
It's principally about their method of action. Contact weed killers kill only the parts of the weed they touch and they tend to be fast-acting – which makes them useful for some types of annual weeds – but they don't last. Residual weed killers, by contrast, enter plants via their roots killing them from below, but their main advantage is that they remain active in the soil for months, which makes the ideal for treating paths and patios. Systemic weed killers are absorbed into the plant and travel in its sap. Their effect is slower, but they tend to deliver a very thorough kill, which makes them good for awkward or persistent weeds, although their effectiveness can be a bit weather dependent.
When's the best time to use weed killers?
Generally you should pick a day when the weeds are actively growing – anytime from late spring through the summer – and the wind isn't blowing, to avoid the danger of drifting. It is, however, vitally important to read the label before you begin, in case the specific product you are going to be using has any particular requirements with regard to timing or weather conditions – not all weed killers, for example, remain effective if it rains soon after application, so it pays to check.
Are they safe?
The testing and regulation of pesticides in the UK is some of the most rigorous in the world, so you can be assured that if it's on sale to the public and you follow all the instructions and precautions on the label to the letter, then it's safe to use. Of course, weed killers need to be treated with respect – which means storing them safely, keeping children and pets away and disposing of any unused chemicals properly.
But what about using them around food plants?
You need to check the label very carefully if you're thinking about treating weeds near to anything you're ultimately intending to eat. Pay particular attention to anything it says about how long you need to leave it after use before you can safely harvest your produce and adjust your plans accordingly.
Does it really matter what kind I get?
Particular types of product are approved for specific purposes and sometimes only for a limited range of plants, so you do need to be sure that the kind you've picked is the right one for the job.
I really need to get rid of my weeds quickly. Can I "up" the dose ?
A lot of careful research goes into establishing the right concentrations for use, principally to ensure the right balance between good weed control and safety. Consequently, it's never a good idea to try using more to speed things up – or less to save money. Stick to what the manufacturer recommends and you'll get the best results.
Today's weed killers offer a highly effective way of dealing with any unwanted plants in your garden, and are backed up with many years of careful scientific research. Getting the right result calls for an understanding of what you're trying to achieve, a little bit of care in what you select and then – most importantly – following the instructions. It really couldn't be simpler!
You might also like...