FAQ: Garden Pest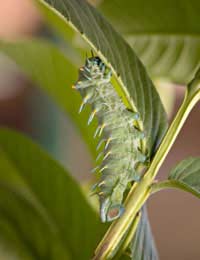 As every gardener knows, no matter whether you're growing vegetables, greenhouse crops, fruit or flowers, where there are plants, there are pests – and some of them can be incredibly destructive. In the open conditions of the garden, it can sometimes seem that for every pest you successfully deal with, three more are waiting to take its place, but although you'll never win a final victory, knowing what to look out for, and how to control them, can at least help you keep the problem at bay.
What Are the Main Garden Pests to Look Out For?
There are two pests that most gardeners would put at the top of the list without even pausing for thought – slugs and aphids (greenfly and whitefly). These two are in a league of their own in terms of the amount of damage they can do, and how many of them seem to be lurking in the average garden. Other 'garden nasties' to watch out for include:
Caterpillars – especially cabbage whites and codling moths.
Chafer Grubs – root-eating beetle larvae.
Leaf Beetles – cut big holes in the leaves of many kinds of plants.
Leather-Jackets – Daddy-Long-Legs larvae, a pest which can cause problems for lawns.
Red Spider Mites – a potentially serious pest of greenhouse and other plants.
Vine Weevils – the larvae are particularly damaging.
Are Slug Pellets Any Good?
Slug pellets – metaldehyde or methiocarb soaked pieces of cereal – are a time honoured solution, and provided you use them in accordance with the directions on the label, they do a very good job. It's often said that garden centres make more money selling these relatively cheap products than any other kind of pesticide – so if repeat-purchasing is anything to go on, slug pellets have definitely stood the test of time!
The main problems with them is that, although some kinds are 'rain-resistant' getting too wet can reduce their effect – and it's on damp nights that the slug problem is often at its worst – and they are poisonous to kids and pets, though the blue colouration and unpalatable taste is supposed to help here.
I Don't Want to Use Pellets; How Else Can I Control my Plague of Slugs?
If slug pellets don't appeal, you can always try barriers, such as sharp gravel, broken egg-shells or copper shields, which some people say repel slugs very successfully. A beer-trap – sinking a jam-jar or saucer into the soil and filling it with old beer – is another simple homespun system that certainly works, but it can also sometimes claim the lives of more innocent wildlife. Finally, over the last few years, biological controls involving a predatory nematode worm have come on the market to deal with slugs. Using them is easy; just make up the solution as directed and water it around the area you want to protect – the worms do the rest! Slugs are a big problem in the garden, but fortunately there are plenty of ways to keep them under control.
How Can We Stop Wasps Ruining Our BBQs?
Wasps seem to be able to find any scrap of food and drink – especially if it's sweet – so try to cover anything that you're not cooking or eating and watch out for opened cans of sugary drinks in particular. A stung lip – or worse – from a hiding wasp is something you really don't want to have happen!
Apart from keeping as much of your meal as possible away from them, you might like to think about investing a few pounds in a wasp trap. These simple but ingenious devices are containers which you bait with a sweet, sugary liquid – dissolved jam does really well – and then hang up. Now any wasps that gate-crash your party will be attracted to them, and, being unable to get out once they've entered, they'll ultimately drown in their free drink.
How Can I Deal With Moles?
If moles are ruining your prized lawn, it's worth buying and trying a few simple remedies such as mole smokes, sonic repellents or even the old fashioned approach of sticking a few child's windmills or half-buried bottles beside their runs, to see if you can encourage them to go. If, however, your moles prove rather unwilling to take the hint, then there's little more the home gardener can do to shift them – and it's time to call in the professionals.
Pests are the bane of the gardener's life – always have been, and always will be – but with a bit of vigilance coupled with some swift action when the occasion demands, they really needn't spoil your enjoyment of your garden, whatever kinds of plants you like to grow in it.
You might also like...