FAQ: Pesticide Safety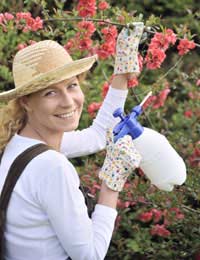 Staying safe around pesticides is obviously important, but there's no getting around the fact that, while we may commonly use them around our houses and gardens, they are poisons – and some of them are very poisonous indeed. Ensuring that your family, friends, neighbours, pets and innocent wildlife don't come to harm demands that you pay close attention to all the necessary safety precautions, so here's our selection of top FAQs on the topic, to help you keep everyone safe.
I've heard that my garden shed isn't a good place to store pesticides safely. Is that really true?
Yes, it's true – despite the huge number of us who do exactly that. The trouble with sheds is that they tend to be too hot in the summer and too cold in the winter, so pesticides stored in them will experience extremes of temperature that they aren't really designed to cope with. Add to that the possibility of a few unusually warm days in the middle of January, or an unexpected cold-snap in June and you begin to understand the sort of fluctuation that can affect the chemicals you have on your shelves. This sort of thing can change the effect of pesticides, making either under- or over-dosing possible – or it may make them virtually useless, so it's obviously best avoided.
OK, so how should I store them
In their original packet or bottle – it's a legal requirement to help avoid confusion over what a product is – and in a secure, air-tight, damp-proof container, somewhere in your home where children and pets cannot get to them.
What should I do with leftover pesticide that I don't need any more?
The label will often give you information regarding disposal, but the best place to get good advice is your local council. They may even have special arrangements in place to help you dispose of your unwanted pesticides properly, so give them a ring.
How do I know if a pesticide is safe to use around kids/pets/fish/food plants?
The only way to be absolutely sure is to read the label carefully, keeping a particular eye out for any special warnings or conditions that may apply. Some pesticides, for example, can be used on food plants, but you need to allow a certain number of days before picking and eating the produce.
When's the safest time to use weed-killer?
As a general rule, pick a dry, still day to spray; avoiding overly windy conditions reduces the danger of your weed-killer drifting into areas of your garden that you don't want to treat – or worse still, your neighbours! Always check the label to see if there are any particular factors to take into account, such as time of year or the weather.
How do I know the right way to use a pesticide safely?
All the necessary instructions for its safe use will be on the label – along with information about what it can be used to kill, and if there are any specific restrictions on the types of plants or surfaces it can be used on, or weather conditions that might affect its function.
I've been told it's safe to double the dose if I want quick results; is that true?
The short answer is no; the doses that manufacturers recommend have been very precisely calculated to give you the best chance of killing your target pest, without compromising your safety – or risking harming your kids, pets and neighbours. It's simply not worth going against all that!
Just how safe are pesticides really?
Well, they're not – at least not for the pests, but then that's the whole point! That said, Britain has one of the world's most rigorous testing and approval regimes for pesticides and it's under constant scrutiny by the relevant government agencies to ensure that safety stays a high priority – at least for people. If it's a properly licensed pesticide – which effectively means if it's on sale on the high street or your local garden centre – it's fine, provided you use it in accordance with the instructions. Unlicensed stuff off dodgy internet sites or the apocryphal 'man-in-the-pub' are, of course, an entirely different matter!
The kinds of pesticides that UK householders can buy have been through all sorts of tests before ever they see the light of day on a retailer's shelf, so you can be sure that if you follow the dose rate and the instructions for use to the letter, all will be well. It's definitely a case of "better safe than sorry!"
You might also like...