Are Pesticides Safe to Use in the Home?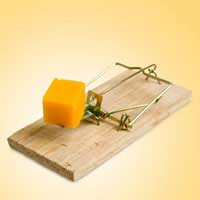 Pesticide safety in the home is not about how safe particular pesticides are – they are all intended to kill something and all can be harmful especially if not handled correctly – so much as how to handle them safely.
One question which may be worth considering right at the start is, do you really need to use a pesticide to deal with your problem, or is there a simpler, non-chemical solution? After all, the only way to use pesticides that is absolutely guaranteed to be safe, is not to use them at all! Mousetraps, for example, avoid the use of poisons; there are electronic products which attract and electrocute flying insects, so there is no call for insecticide sprays; sharp gravel may be all that is needed to keep slugs off your Hostas; a small number of weeds can be dug by hand.
Staying Safe
Sometimes, however, there is no really practical alternative and a few common-sense precautions can make all the difference.
Pesticides for use by the householder – called "amateur" ones, to distinguish them from the types intended for farmers or pest control professionals – are carefully controlled and regulated to ensure their efficacy and safety in a home environment. All of the products available on open sale to the general public through high street shops are of this kind, being licensed and approved for use as described on the container. The product label is your biggest ally in using any pesticide safely; it provides a wealth of information and, most importantly, will have clear instructions on safe use.
This is not, however, only relevant when you actually start to apply the pesticide. Reading the instructions thoroughly before you buy is likely to be the only way to avoid coming home with a product that is not right for you. If, for example, it is not effective against a particular pest, should not be used around pets or young children, or needs any special precautions – all of this will be on the label.
Storage, Use and Disposal
It goes without saying that all pesticides for use in the garden and home should be stored safely, away from children, pets and food, preferably in some form of secure, sealed container, if the product does not come in one itself. Although commonly used, garden sheds are not the best place, because they often become very hot in the summer and very cold in the winter. Ideally storage should be somewhere which is not subject to such extremes of temperature, though this is not always easy in the average house and the shed often remains the best choice for other reasons.
When the time comes for use, the instructions will give details of when, where and how to apply. They will also set out any special requirements, such as whether – and for how long – children and pets need to be excluded from the treated area, how soon after treatment you can pick and eat edible plants and so on.
There can sometimes be a bit of a temptation to "up" the dosage in the belief that this will get the job done faster or more thoroughly. In truth, it is likely to do neither, since the recommended application rates are carefully determined to provide the best balance between efficient pest elimination and safety. For some products, overdosing can even work against you. Slug pellets – cereal pieces soaked in metaldehyde – are a good example of this. Designed to be attractive to slugs and poison them when eaten, the pellets will repel them if sprinkled too densely, so instead of taking the bait and being killed, they simply wander off to feast on your other unprotected plants.
After treatment, any protective clothing, gloves or masks used should be either cleaned or discarded safely and if unused pesticide remains, it should be put back into storage. Correctly stored pesticides generally have a fairly long shelf-life but if the need arises to dispose of them it is important to do so properly – it is illegal to pour pesticides of any kind, even if diluted, down a waste-water drain. The local council will be able to give detailed advice on the disposal arrangements for your area.
While there may be no such thing as a "safe" pesticide, a few straightforward things as simple as following the instructions and washing your hands after handling them, can make using them safe – for everyone, that is, except the pest!
You might also like...