Avoiding the Dangers of Pesticides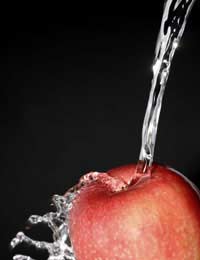 More and more people are becoming aware of pesticides and the potential hazards they pose. Avoiding pesticides altogether is of course difficult in the 21st Century – their use is so widespread – but with a little bit of effort, it is possible to steer clear of a lot of their dangers.
The easiest way to avoid the dangers of pesticides is, of course, not to use any. Not all pest problems automatically call for a chemical solution and there are often alternative methods of control.
Slugs may be effectively kept at bay with a barrier or a beer trap; growing pyrethrum – sometimes called tansy – may keep your favourite plants free from aphids and other insect pests; ultrasonic devices – or even fresh mint – may be all you need to keep mice away. Encouraging a pest's natural enemies may also prove helpful; frogs in a garden pond, for instance, provide a very effective seven-day-a-week pest control service!
Safe Use
Sometimes there may be no practical alternative to deal with a problem and in such cases, a few common-sense precautions may be all you need to stay safe. It should go without saying that reading the label, following the instructions and paying attention to any special precautions that may apply are absolutely essential when using any pesticide yourself.Providing proper storage too is an important part of avoiding potential dangers – which generally means keeping the products away from children, pets and food, and ideally in a secure, sealed container. When empty, used containers should be disposed of carefully, to avoid harm to the environment.
Pesticide and Food
Given the extensive use of insecticides, herbicides and other chemicals in modern agriculture, it is inevitably difficult to avoid pesticides, whether through principle or out of concerns over their safety. Over the years there have been several reports of pesticide residues found in food on sale in various supermarkets and other outlets and this type of concern has been, for some people, one of the biggest drives towards organic eating.
Selecting brands and sources which have good organic credentials is one way to meet any fears you have on this score. So too is growing your own fruit and vegetables, if you have the space and opportunity.
Pesticides undoubtedly have their place in pest control – without their use, for example, it has been estimated that the world's fruit and vegetable production would drop by up to forty percent. However, there is no such thing as a 100 per cent safe pesticide – they are all designed to kill something – and alongside their use come certain potential dangers. The best way of avoiding these dangers is to be aware of them in the first place, know what steps can be taken to reduce or cut out the need for pesticide use – and failing that, how to use them safely and efficiently.
You might also like...