Questionnaire: Are You Safe Around Pesticides?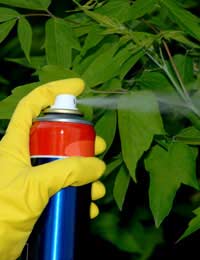 Pesticide safety is a serious business and rightly so, when you consider some of the ingredients they contain.
Although all the varieties available today for our households and gardens have been thoroughly tried, tested and approved long before they made their way onto the retailer's shelves, in the end, how safe they really are comes down to just one thing – the user.
So, are you knowledgeable about pesticides and confident that you can use them safely? Try this quick questionnaire and find out.
It's certainly not the most scientific test in the world, but it should get you thinking and where safety's concerned, anything that makes you a little more aware of the potential dangers has to be a good thing.
The answers are at the bottom; good luck!
1. What's the most reliable way to know if an insecticide will deal with your particular pest problem?

a) Read the "Statutory Box" on the label.
b) Ask in the shop or garden centre.
c) Word of mouth recommendation from one of your friends.

2. Why is a dry, overcast and still day the SAFEST time to use weed killer?

a) Rain will wash the spray away.
b) Sunny days make the weed killer evaporate too soon.
c) Breezy days increase the risk of the spray drifting.

3. Storing pesticides safely is important, but which of these precautions is a LEGAL requirement?

a) Store them at an even temperature
b) Store them in their original containers.
c) Store them in a locked box or cupboard.

4. You have made up more pesticide than you need; what do you do ?

a) Pour the remainder down the drain?
b) Ask the local council for advice on disposal?
c) Store it safely in a clean bottle until you need it again?

5. Why do you need to be especially careful with contact insecticides?

a) They are indiscriminate, killing beneficial insects as well as pests.
b) They are slow acting, which can tempt you to over-treat an area.
c) They get into the sap of plants, so you cannot use them around fruit or vegetables.

6. What do slug pellet manufacturers do to make their products safer to use?

a) Add cereal to make the pellets larger and easier to see.
b) Add an odour that only hedgehogs can smell and which they find repulsive.
c) Add a bitter taste to put dogs off and colour them blue to avoid birds being attracted.

7. Which two types of pesticides most commonly pose a danger to pets?

a) Rat poison and slug pellets
b) Lawn weed killer and fungicide
c) Systemic insecticides and patio weed killer

8. Although pesticides are often stored in garden sheds, why aren't they the best place to pick?

a) They may be damp.
b) They often suffer extremes of temperature.
c) Mice may be able to get at the packets.
Answers
1. (a) Reading the label is always the best way to find out. The statutory box tells you more than just which pests it will kill; if there are any special restrictions for its use, or times or plants on which it shouldn't be used, it will be here. Asking a knowledgeable assistant is fine, but unless you tell them all the circumstances, some important advice may get missed.
2. (c) Breezy days make it more likely that the spray will drift onto places that you don't want to treat – such as your prize dahlias, next door's cabbages or your own face! Although rain dilution and evaporation on hot days are important factors too, they only reduce the effectiveness of the treatment, whereas a windy day makes the whole operation less safe.
3. (b) Although all of these are important safety precautions, by law pesticides should always be stored in their original packets or containers to avoid any danger of mistakes being made.
4. (b) If you have made up too much, ask the local council for advice; simply pouring it down the drain is illegal and potentially very harmful to wildlife and the environment and storing it in any container other than the original one is also against the law. In any case, many pesticides don't work as well if they've already been made up for some time.
5. (a) The problem with contact insecticides is that they do not discriminate between insect friends and enemies, so you run the risk of killing off beneficial creatures such as ladybirds and lacewings along with the pests.
6. (c) Slug pellets have a bitter taste to put dogs off and the blue colour is supposed to make them unappealing to birds. All the same, every year a number of dogs do manage to eat enough to need a vet, so you can't rely on this completely to keep yours safe.
7.( a) Although all pesticides can be dangerous if your pets get at them, rat poison and slug pellets are two of the most common causes of danger to pets.
8. (b) They often suffer extremes of temperature – too hot in the summer, too cool in the winter – which could affect how well stored pesticides work, possibly leading to over- or under-dosing the next time you use them. If the products are being stored properly in a secure container, neither dampness nor mice should cause problems.
So, how did you do?
8, Safely locked away!
5–7, Applying it nicely!
3–4, Mixing it well!
0–2, Just reading the label!
You might also like...