Using Weed Killers Safely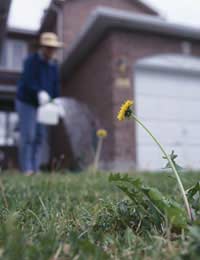 Weed killers are one of the most often used forms of pesticides and when applied correctly, can form a very valuable part of the gardener's armoury. There are many different formulations on sale – under a host of brand names – appropriate for a wide range of common garden situations and which may be supplied as gels, ready-made sprays or concentrates.
Using them safely and effectively depends both on the nature of the problem to be controlled and the type of weed killer selected to do the job. While it is essential to follow the instructions for the particular product chosen, there are a few general rules which apply for each kind which will help to ensure the safety of both the operator and the plants in the garden that are not intended to be killed.
Staying Safe
Although the types of herbicides sold to kill weeds in domestic gardens are relatively safe, it is still important to treat them with due respect. As always, reading and following the instructions regarding use, storage and handling is essential, even if you have used the product before.
There may be a temptation to "up" the dose rate to do an even better job – or conversely, to reduce it to save on cost – but in the long run neither is likely to work, since it will have been carefully researched to balance efficient weed control with safety. If the product is being used on weeds growing near vegetables or other edible plants intended for the table, pay careful attention to any instructions regarding the time between treatment and harvesting, to avoid any potential problems with pesticide residue on the crop.
Although "amateur" pesticides are safe to use without protective clothing, wearing gloves and possibly a face-mask of some sort is probably a very sensible precaution, particularly when using weed killer spray and especially in breezy conditions. Keeping spray nozzles close to the intended target can also reduce the chance of the herbicide being blown to neighbouring plants, or into your face.
For obvious reasons, spraying is not a job for very windy days, while rain can wash away or dilute the spray and on hot sunny days, it may evaporate quickly, or scorch the leaves of "wanted" plants, making dry overcast days ideal.
After completing the treatment, original containers should be disposed of in accordance with the instructions and sprays or other equipment cleaned thoroughly. Any unused product or washings should be discarded over a "weedy" area, since it is illegal – and potentially damaging to the environment – to simply pour it down the drain.
Hit the Right Target
There is not much point in killing off the weeds, only to decimate the garden in the process. Herbicide safety extends to our plants too.
Many weed killers come as sprays, either in a ready-made gun – a widely available and easy to use option for many applications – or are supplied as concentrates, needing to be made up in water and applied from sprayers. Concentrates can also be used in watering cans if necessary, but this does limit their usefulness.
A spray, on the other hand, can be adjusted to suit a wider variety of situations from a narrow, directed jet to spot treat an individual weed, to a wide mist suitable for dealing with weeds over a wider area. Even so, though they can be used fairly accurately, they can be difficult to apply safely amid dense plantings without the danger of damage to neighbouring wanted plants.
Where individual weeds have appeared in amongst a dense group of plants or in a hedge and where spraying would be difficult or potentially damaging gels are probably the best option. They need to be painted on to the weed itself, making them highly specific and, if used properly, the danger of killing off valued plants in the process can be entirely eliminated.
This type of product can also be a very effective means of controlling any persistent suckers which may emerge after the removal of unwanted trees or woody shrubs. Using them on the suckers of desired trees can be more problematic and requires great care, since the herbicide may track back and damage or kill the parent.
As with all pesticides, it is important to select the right product for the job and having chosen a suitable weed killer, to use it properly to give the best results against the plants you do not want, without harming either those plants which you do, or yourself.
You might also like...