Understanding Pesticide Labels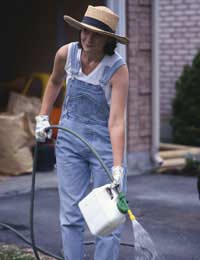 Pesticides offer safe and successful solutions to a wide range of pest problems but the key is knowing how to use them safely and effectively. Fortunately, all of this required knowledge can be readily obtained from the product label and this is not simply important once you begin to apply the pesticide – it is also likely to be the best way to make sure you come home with the right product for your needs.
Some of the information is legally binding and appears in a separate "statutory box" on the label, while other parts provide more general details about the product itself, any special precautions and guidelines for disposal. If the label is our best ally when it comes to using these products properly, how can we make sure that we get the most out of all the information it contains?
The Statutory Box
All pesticides are carefully controlled and regulated to ensure their safety and can only legally be used to treat types of problems for which they have specific licensing and approval; this information is found in the separate "Statutory Conditions for Use" section of the label. Though the wording may seem a little off-putting at first glance, this area of the label is one of the most useful, so it is worth the effort getting to grips with it. The details obviously vary depending on the type of product, but generally include the following.
"Field of use restrictions" – if the product is only approved for particular specific uses, then this will tell you what they are.
"The crop or situation which may be treated" – the types of pests and places which the product can be used to treat; it might say something like "For use on Paving, Paths and Patios" or "For use on Aphids and Whitefly."

"Maximum individual dose/application rate" – guidance on avoiding over or under-dosing. Information such as "10mg of product per 25 square metres" is invaluable as the recommended application rates are carefully determined to provide the best balance between efficient pest elimination and safety.
"Maximum number of treatments or maximum total dose" – some types of pesticides should not be used too often on the same plant or in the same place in case there is a build up which might be harmful. Guidance such as "No more than six treatments in any year" appears in this section to avoid this kind of risk.
"Environmental protection requirements" – some chemicals are harmful to particular types of wildlife or pose a potential environment problem. "Harmful to fish or other aquatic life. Do not contaminate ponds, streams or watercourses", for example, is commonly seen on many products for this reason.
The product's registration number will also appear – pesticides used for plant protection having a five-digit "ministerially approved pesticide product" (MAPP) number, while those intended for other uses have four-figure Health and Safety Executive (HSE) numbers. These numbers are important, firstly because they show that the product has been tested and approved as safe to use for the purposes stated and secondly as a very precise form of identification should advice be needed in the event of some accident or mishap.
Product Information
The product's active ingredients will also appear on the label, along with the manufacturer and relevant contact details, which may be of some help if you wish to compare two or more similar products or ask for advice.
A careful reading of the label before you buy can be the easiest way to avoid buying the wrong product. If, for example, it is not suitable for a particular pest, cannot be sprayed indoors, should not be used around pets or young children, or needs any special precautions – all of this will be on the label along with any relevant hazard symbols, warnings, or special disposal requirements.
All pesticides are potentially harmful if they are not used properly and although the type and strength of products on general sale are closely controlled to minimise this risk, they still need to be treated with respect. While enclosed leaflets and instruction sheets may elaborate further, it is the label which provides the essential information for using the product effectively and safely.
Making sense of the label – understanding the statutory conditions of use, any necessary safety precautions, how to apply the product, what it does and knowing how to get further help and advice – is a major part of being able to use pesticides confidently and safely. Most importantly, it also brings you a big step closer to dealing with your pest problem, which, of course, was the object of the exercise in the first place.
You might also like...