Signs That Your Plant has a Pest Problem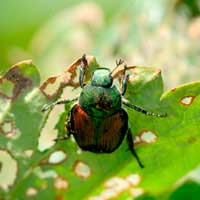 Plants are prone to attack by a huge number of types of pests and while the damage done by some kinds may be all too obvious others can start out almost imperceptibly, so that by the time you notice that anything is wrong, the plant is already heavily infested. Given that preventing a major outbreak is almost always easier than fighting one once it has taken hold, catching things early can really make the difference and it is worth keeping an eye out for any sign that all is not well.
In general, the leaves of a healthy plant should be a uniform colour – unless it is a variegated form, of course – free of any blotches, mottling or obvious signs of damage. Although the presence of these signs does not automatically mean that the plant is harbouring pests – especially if they only affect a relatively small number of leaves on a large bush – they should alert you to the possibility and certainly warrant another careful look. A damaged plant may not currently have a problem, but the damage may leave the way open for pests – especially fungi – to enter in the future.
Feeding Damage
For many plant pests, the harm they do is directly linked to their feeding and the signs they leave behind can give a clue to the identity of the guilty party. Caterpillars, grasshoppers and beetles for instance chew bites out, leaving holes and cut edges behind; slugs, snails and thrips rasp away, scraping holes in the plant; the larvae of leaf mining moths and flies leave winding brown paths as they eat away inside the leaf.
Aphids and mealy bugs feed on sap, piercing the plant tissue with their sharp mouthparts. Though this does not always leave obvious signs itself, plants affected are often stunted and discoloured and in addition, the insects have been linked to the spread of a number of plant diseases, such as the viruses responsible for cucumber mosaic, leaf roll in peas and plum pox.
Finding something actively eating your plant is, of course, always a bit of a give-away, but sometimes the pests are so small that they cannot readily be seen themselves. The first sign of red spider mites, for example, is often the brown dots they leave behind – scars from their feeding.
Eggs and Grubs
A large number of pests – especially insects – lay eggs on the plants which form the staple diet for their growing larvae. The areas to check include young, tender leaves, new shoots and flower buds, where eggs can often be concealed very successfully; the underside of leaves and the hidden side of stems are also favourite egg-laying spots for some species. Sometimes the eggs will be rolled up inside the leaf for protection, or surrounded by a sticky or frothy substance to stop their natural enemies from eating them.
Know Your Plant
A good knowledge of your plant can be very helpful too. Some pests do not produce any specific sign, only rather general indications, such as stunted growth or yellowing, giving any suggestion that the plant is unwell. This may be simple enough to spot in a single specimen growing amid more of its own kind, but for a solitary example it can often be less easy to see, unless you are familiar with what it should look like.
In addition, some plants are prone to particular pests. Succulents and cacti, for instance, very commonly suffer with mealy bugs – small grey-brown insects, looking like 2mm long woodlice amid the plant's spines – which feed on the tender young growth; another form affects the roots – white fluffy spots in the soil or beneath the pot signal their presence.
Some – such as water lilies and marginal plants – have pests all of their own. The maggots of leaf-mining midges eat their leaves, a particular kind of aphid forms colonies on leaves and flower buds and the water lily beetle bites long slots in the floating pads.
If specific types of pest are likely to be bothering your plants, then knowing what to look out for can be a great help. However, sometimes a "specialist" pest becomes a more widespread problem, as in the case of the vine weevil. Once only affecting pot plants, such as cyclamen and begonia, it has now become much more widespread, laying eggs within the soil which hatch into fat, white larvae with brown heads, which voraciously eat many different kinds of roots, bulbs and tubers. Affected plants often collapse suddenly – often the only above-ground sign of its presence in the garden being the characteristic notches the adults bite in leaves.
Plants form the base of all food chains – so it is hardly surprising that there are so many pests on-hand, ready to take advantage of the meal they offer. The trick is to spot the warning signs, before they indulge themselves too freely.
You might also like...