Invaded by Ants: A Case Study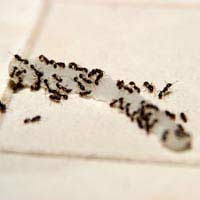 A toddler screams, and mum runs into the kitchen – to find a troupe of hungry ants passing underneath her youngster's chair and inches away from his dangling bare feet. It sounds like a scene from a horror movie, and the way Marie Clark describes the event, it's pretty clear that's how she saw it at the time.
"I completely lost it," she admits, " all I could see was all these ants and my little baby's bare legs and I was freaked big time, I can tell you. I just flew into the kitchen, scooped him up and ran round to Jackie next door. I didn't move until my partner came home from work!"
Honey in the Cupboard
With little David left safely playing with their neighbours' children, it didn't take the pair of them long work out what was going on. Following the line of busy insect bodies into the house led across the floor, over the work surface and into a cupboard, where, lying at the back, stood a long forgotten plastic bottle of clear honey. A slightly skewed lid was all that it had taken to let the ants find themselves a free feed.
"I wouldn't mind, but neither of us like the stuff," complains Marie, "we only bought it when Phil's parents came to stay last year, and then they ate hardly any of it anyway. Phil was brilliant," she adds, " he was like – 'right here's what we do' – and went outside to work out where they were coming in."
What he found was a small hole beside the door and he wasted no time in blocking it up with a tube of external filler. "And that," he explains, "was that" – or so they both thought. Come the next morning, however, and their visitors were back, this time using the gap beneath the door itself to make their way in. Their honey jar had long since been consigned to the bin, but, of course, they didn't know that!
Boiling Water
"I wasn't going to go off to work and leave Marie and Davie like that, so I reckoned a good, old-fashioned kettle of boiling water would do the trick. I thought, well it always worked for my granddad," reasoned Phil.
A short trip along their garden path following the ant trails soon showed him where the nest was sited. Four or five doses of steaming hot water later and the ants were showing no enthusiasm to be doing any more home invasions – but like his grandfather before him, Phil knew that this wasn't the end of the matter just yet.
Dealing With the Problem
Obviously something was going to have to be done, but they were both very concerned about using pesticides around their young son. In the end, after a lot of careful thought and with the help of their local council's environmental services department, they opted for a two-pronged strategy. Firstly, they identified a suitable insecticide spray that they could use underneath the gap in the door, to deal with any ants trying to get in and secondly, they bought one of the readily available brands of ant bait.
"We had to compromise a bit on spraying chemicals, because the bait takes a little while to work," explains Marie. "I wasn't really that happy about it, but the thought of ants crawling all over Davie was giving me nightmares."
"We kept seeing ants around for a while after we started using the ant baits, but it wasn't too long before it had evidently been taken back and shared around inside the nest, because pretty soon we didn't see any more – and we haven't since. Mind you," says Phil, "we're not taking any chances – I've fixed that hole properly and we've got more ant bait on standby; the first sight of the little beggars and it'll be down again."
"And" laughs Marie, " these days we never, ever, buy honey."
You might also like...