Dealing With a Mice Infestation: A Case Study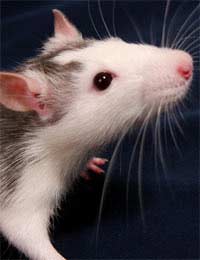 If you're moving into a new house, you generally expect to get vacant possession, but as 70-year-old Elizabeth Watkins found, when she moved into a Victorian town house in Shrewsbury, sometimes there are sitting tenants – and hers didn't waste much time introducing themselves!
"Cheeky little beggars, they were too," Elizabeth recalls, "they'd just sit and look at you if you went into the kitchen and only scurry off at the last minute. It's not as if I'd really have hit one or anything – I'd pretend I was going to – but you'd have thought they might have been a bit more wary."
The Mousetrap
Even if she wasn't too happy about the idea of hurting her resident mice, Elizabeth was none too happy about having them running around her food cupboards; she knew she'd have to do something, so she talked it over with George, one of her sons.
He came round with a few mouse traps the next day – and it wasn't long before the tell tale "snap" told them that one of their unwelcome visitors had paid the price of its cheekiness. It was then that they discovered that neither of them could actually bring themselves to touch the small, furry corpse – which wasn't exactly going to help their attempts to deal with the problem.
"It was hopeless, I looked at George and he looked at me – what a pair of dopes! In the end we scooped the whole thing up in the coal shovel and just dumped it in the outside bin – trap and all!"
Change of Plan
If traps weren't going to work, then the only other remedy seemed to be poison. Elizabeth was a little reluctant at first; she has a number of grandchildren of her own who visit regularly as well as being a firm favourite with most of the other youngsters in the street, but she knew she couldn't simply ignore her mice. There were just too many of them.
When George came round the following week, he was happy to see that poisoned seed had been taken from the bait stations he had painstakingly set up, having followed the instructions on the packet to the letter.
However, although the bait had been taken, there didn't seem to have been much of a reduction in mouse activity – and Elizabeth hadn't really seen much change in their numbers either. The same thing happened over the next fortnight; George stocked up the bait, the mice took it, but they still kept on visiting.
It was beginning to look as if a bit of professional advice was needed; George called the council.
Council Know-How
"I know mum had been a bit worried about talking to the council," George explains, "but I didn't know what else to do. In the end it was the best thing I could have done. I spoke to a really nice chap from Environmental Health – and he put me right in about ten-seconds-flat! Turns out these old Victorian houses in this part of the town are well known for it – it's the gardens. Typical long narrow gardens, back to back – it seems the mice love them."
"I had a good look round mum's house and sure enough, there was a little hole in the kitchen wall, just like he said there'd be. A bit of cement soon fixed that, and I sorted out a few other little gaps and so on, just to be sure."
Long Term Control
The fact that the garden had been a little neglected by its previous owner – and heavily overgrown at the end furthest away from the house had allowed the mice free-rein and they'd evidently been breeding for some time, judging by the numbers of them that used to forage in Elizabeth's kitchen. To stop the problem from coming back, George and two of Elizabeth's daughters who live nearby came over with their respective families for a mass tidy-up one weekend to get the garden under control and they take it in turns to make sure it stays that way.
"Little blighters haven't been back since," George laughs "mind you, that's probably as much because mum's gone and got herself a cat – Tibbs, she's called it. I know she always wanted one – this just gave her the perfect excuse."
The final word has to go to Elizabeth. "Tibbs is the best mousetrap ever – and no one has to deal with the bodies!"
You might also like...