Vine Weevils Tamed With Biological Control: A Case Study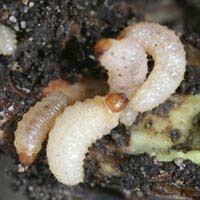 "The first thing we noticed was perfectly healthy-looking plants just collapsing and dying," recalls Fiona Sparkman. "We thought it was our fault at first – we'd been away for a couple of days and we hadn't asked anyone to water our pots. We reckoned we could get away with it – it was late September, after all – and then, of course, the weather turned a bit hot. 'Typical', we thought!"
When watering didn't do the trick, the Sparkmans began to remove their dead plants and that was when the real source of their problems became clear.
"I couldn't believe what I was looking at," explains husband John. "Great, big, fat grubs – creamy-white things with little brown heads – hordes of them lurking around in the roots."A quick chat to one of their gardening friends gave them a clue as to the identity of their unwelcome guest and a look through a book confirmed it for them – vine weevils!
A Major Pest
Once largely restricted to indoor plants, the vine weevil has risen to major pest status over recent years, being rated as the third most problematic nuisance to control by the Royal Horticultural Society. Begonias, cyclamen and primulas used to be high on their list of favourites, but these days they have become much less faddy feeders – with a particular taste for container-grown plants. The adults often harm the leaves during the summer, but this is nothing compared to the damage the larvae can wreak on the roots during autumn and winter – as the Sparkmans had found out to their cost.
"Well, we knew we were going to have to do something about them," says Fiona, "so we asked around and it seemed we had three options – pesticides, barriers or biological control. We've never been entirely happy about too much chemical use and it seemed a little late for barriers and they're really aimed at the adults anyway, so we went for biological control. We'd used the same idea in the past to keep slugs down, so we were pretty familiar with it and liked the results we'd got then, so we felt it was the best one for us this time too."
Biological Control
Biological control for these destructive little creatures comes in the shape of nematode worms – the same kind of animal that Fiona and John had previously used on their slugs. There are two species of nematodes available for vine weevils,
Steinernema kraussei
and
Heterorhabditis megidis
. Although there is little to choose between them, the latter needs a minimum temperature of around 12 degrees C (54F), while
S. kraussei
can be used as low as 5C (41F).
"Given the time of year," Fiona explains, "we had to bear in mind temperature and went with that one (S. kraussei). The only down-side to our choice was that none of the garden centre around us stocked it – and we always buy local if we can. Having tried them all first though, we didn't feel too bad about having to send away for it. Application could hardly be simpler. Just add the contents of the pack to the right amount of water and away you go – like the slugs all over again."
And The Results.....
"Well, touch wood," says John – and he does just that, to be on the safe-side – "but we haven't noticed any problems since. We dosed the pots as soon as we got the stuff and then again this spring – and we've also been using barriers and directly collecting any adults we find too. Come the autumn, we'll be dosing again and hopefully that'll be the last we'll ever see of them."
"I had no idea vine weevils could do so much damage," Fiona admits, "I always thought of them as a house plant pest, but having seen it for myself, there's no way they're coming back if I can help it. If that means regular treatment every year, it's a small price to pay for the peace of mind – and, you know, I'm really getting awfully fond of nematodes"
Now that's a line you won't hear very often!
You might also like...