Household Pests: Frequently Asked Questions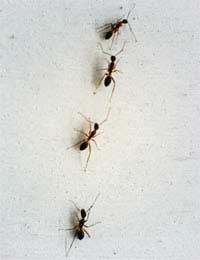 We all accept that dealing with garden pests is an inevitable part of gardening, but when it comes to household pests, few things upset us quite so much as the idea of being forced to share our homes with these unwanted visitors.
Unfortunately our warm, dry, centrally-heated houses also make attractive places for a variety of unwelcome free-loaders to stay, who are often intent on eating us out of house and home – quite literally!
Fortunately, there are ways to make your home far less welcoming to them in the first place and help evict those that may already be in residence.
What Are the Most Common Kinds of Pest in the Home?
The "top ten" of common household pests are, in alphabetical order:
Ants
Bed Bugs
Carpet Beetles
Clothes Moths
Fleas
Flies
Food Beetles
Mice
Rats
Wood-Boring Insects
I Don't Want to Use Pesticides; Are There Any Natural Remedies I Can Use Instead?
There are lots of different kinds of natural pest control products that various people have found worked for them – and some of them are long established folk remedies. Using fresh mint to keep mice out of your cupboards, is a prime example, which dates back hundreds of years.
A number of other fresh herbs seem to have pest control properties; the likes of rosemary, fennel, rue and wormwood, for instance, are said to be effective at controlling pet pests, such as ticks, mites and fleas.
Other natural insect repellents include many of the essential oils, with lemon-grass, citronella, and eucalyptus claimed to be especially useful at keeping all manner of bugs away, while pieces of aromatic red cedar wood in wardrobes and drawers help save clothes from the ravages of moths.
Do Ultra Sonic Devices Really Work?
Opinions vary – and scientific evidence also seems inconclusive; in some studies, mice have been found to stay away from ultrasonically protected areas, while in others, they've been seen to nest and breed quite happily, so it's hard to be sure.
Some householders have found they work very well for them, with reports of people using them to repel rodents and finding that all sorts of other pests were being driven away as well.
Since they're not very costly to buy, seem to work for some infestations at least, and won't do any harm to your children or pets – unless, presumably, you keep hamsters or fancy rats – they're probably worth trying, just in case.
Who Can I Ask for Advice About Pests?
Probably the best place to start with would be your local council; although how much of a service they provide depends on whereabouts you live and the nature of the problem, generally they can offer good advice on dealing with most kinds of common pests. Many councils have their own pest control service – which is often free to local householders, or provided at a reduced cost – especially for the varieties of pests which can pose a threat to public health, so it's always worth trying them first.
Commercial pest control companies aren't set up to give free advice, but never-the-less, most tend to be very helpful – provided they don't feel you're taking advantage!
What Can I do to Reduce the Chance of Having a Pest Problem?
There's a common misconception that pests are only attracted to dirty places, and while filthy conditions are certainly attractive to some kinds, for many other types of pests, their presence doesn't reflect poor personal hygiene or bad housekeeping. A whole range of creatures, including bed bugs, ticks, ants and woodlice can make a nuisance of themselves in the nicest and cleanest of houses!
One of the best ways to avoid many kinds of household pests becoming a problem is simply to make sure that they don't get into your house in the first place; prevention is often far easier than cure. Keeping your house in good repair can play a significant role in dissuading everything from ants to rats from visiting. Rather like burglars, if you can make it difficult for them to break in, with a bit of luck they'll scuttle off in search of easier pickings – so pay attention to splits in your door and window frames, gaps underneath or any holes in your walls.
When it comes to controlling other kinds of pests, however, there's no denying that good house-keeping helps. Regular vacuuming, for instance, can be a valuable tool in controlling moths, fleas and beetles, while making sure that surfaces where food is prepared are kept clean and food itself put away will remove potential temptation from a whole horde of pests including ants, flies and rats.
It's really just a matter of common sense – there's no need to turn you home into a clinically disinfected waste-land, but keeping things fairly tidy certainly makes life easier. As the old saying goes, cleanliness may well be next to Godliness – but sometimes it can mean being pest-less too!
You might also like...