Professional Pest Control: Frequently Asked Questions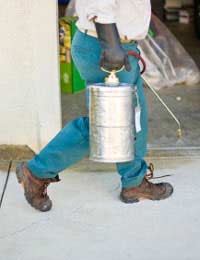 Calling in a professional pest control company can seem like a big step – if not an outright admission of failure – but it really shouldn't; after all, we don't think twice about using the services of plumbers, electricians or carpet-fitters when we need them.
Today's pest controllers are a far cry from the traditional image of the "rat-man" and, despite our almost automatic association of pest with dirtiness and disease, they often afflict the cleanest of houses so any feelings of disgrace – though understandable – are entirely misplaced!
Do I Really Need to Get Someone in?
The decision to call in professional help really depends on the individual problem.
Some kinds of pests, such as squirrels or moles, can call for specialist equipment or techniques that are not available to the ordinary householder – which makes things very straightforward. Others such as bed bugs are just so difficult to deal with that a pest control company really is the best option. Alternatively, you may feel it necessary to call them in if your own efforts haven't been entirely successful, or the infestation is not clearing up as quickly as you'd hoped – or it's getting even worse.
It's never easy to know when to make that call; there isn't a "right" time, just a right time for you.
Can I Talk to Them First?
It's always a good idea to talk to them first – if only to get an idea of how professional they sound and whether you feel they're up to the job.Good pest control companies will be happy to try to give you an honest opinion about your problem over the phone – or get someone to ring you back if there isn't anyone with the right knowledge on hand when you call. However, do bear in mind that, no matter how helpful they are, they aren't in the business of providing endless free advice, or diagnosing your problem at a distance – so play fair.
It's also worth remembering that many councils provide a level of pest control services to householders – and you have already paid for that in your council tax – so pick up the phone to them first, to see if they can help.
What Will the Neighbours Think?
Probably nothing – unless you tell them what's going on. These days pest control companies take the need for discretion very seriously, so it's unlikely that your neighbours are going to even know they've been. That said, it's always worth letting people know what's happening, in the interests of good neighbourly relations, especially if what you're doing could affect other people.
If you've got good neighbours, you should find they'll be grateful to you for taking action rather than just ignoring a problem – particularly if there's any chance it could spread.
Isn't it Terribly Expensive?
No one would suggest that it's a cheap option – it's someone's livelihood, after all – but it isn't perhaps as expensive as you might think and, again, your local council may have a free, or subsidised service for some of the more common pests – especially the likes of rodents and others which pose a potential health risk.
If you do have to pay for a commercial company to solve your pest problem, in many ways the most important thing you'll be buying is their expertise and your own peace of mind. It's worth balancing their fees – and guarantees – against all the damage and anxiety, not to mention the cost of DIY treatments, if you continue to try to sort things out yourself when it's clear it isn't working.
How Can I Avoid the "Cowboys"?
Unfortunately, like most other trades, standards vary from highly competent professionals to the out-and-out cowboys, but with a little research, you should be able to make the right choice. There are a two main associations to look out for – the British Pest Control Association (BPCA) and the National Pest Technicians Association (NPTA), since membership of these does show a level of commitment to proper training and good service. British Agrochemical Standards Inspection Scheme (BASIS) registration is another reassuring thing to see on their letterhead.
Also ask about their insurance cover, how long they've been in business and to see any testimonials they may have from other satisfied clients; while these alone don't prove that they're bona fide, they will help you build up a better picture.
Pick your professional pest control company wisely and, far from being a sign of defeat, it should be a weight off your mind!
You might also like...