How I Dealt With a Plague of Slugs: A Case Study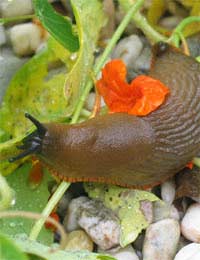 Slugs can be a pretty difficult foe to deal with at the best of times, but add two small children and a dog into the mix and the problem can become much worse – as John and Karen Driver discovered when they moved into their new house in the spring of 2007.
"The garden was everything I wanted," Karen explains. "Admittedly it was overgrown, but it had space and bags of potential, so I couldn't wait to get started on the planting and making my own little vision of heaven! The clearing, weeding and planting part went according to plan," she laughs, " but I really hadn't allowed for the slugs. They came out from everywhere – I've never seen so many and each one was hell-bent on eating all my lovely new plants!"
With her dream garden being literally devoured before her eyes, Karen knew she'd have to do something, but with four-year-old Emily, two-year-old Tom and Misty the family's Labrador, she didn't feel at all comfortable with using slug pellets.
Looking for Alternatives
"I knew I wanted something other than pellets, but to be honest, I hadn't got much of a clue what to try. I remember someone telling me about using old beer in a saucer, but with my two and Misty – they get into everything – that didn't seem much of a better idea!"
"In the short time we'd been in our house, I'd got to know the people at the local garden centre pretty well and one of the girls there was really knowledgeable about pest control. We talked about a lot of options and she reckoned that the best for me would be either barriers or biological control." (The garden centre recommended using the slug-specific nematode worm, Phasmarhabditis hermaphrodita, to control the problem).
" I didn't really like the sound of introducing even more creepy-crawlies into the garden – so in the end I just went with barriers to try to keep them off my plants."
Karen returned armed with a bag of sharp sand/gravel mix and a range of copper rings and promptly set about protecting her most vulnerable bits of greenery.
Putting Up the Barriers
Surrounding the plants with rings of sharp gravel – and using collars to make doubly sure for those that were suffering the worst slug damage – had an almost instant effect and the tide of the battle seemed to have turned. Gradually the plants began to recover and Karen was beginning to see the sort of growth that she had been hoping for all along – at least until the hostas started to emerge – and when slugs began to attack one particularly prized specimen, the balance tipped.
"I'd bought the most glorious 'Sagae' hosta – it's a beautiful thing, grows to almost 3ft with the most amazing yellow-edged, sage-green leaves – and within days there it was, gorgeous leaves in tatters. Well, I was furious, I can tell you – so much for the gravel and barriers, I thought!"
The next day, Karen put her reservations to one side, embraced the idea of biological control and collected her very own private army of nematodes.
Biological Warfare
"It felt very weird driving home with a little packet that said it contained 20 million roundworms – I mean it seemed like overkill to me – but I'd had enough. I didn't care; those slugs were definitely going to get what was coming to them!"
"I had been concerned that they might be harmful to my kids, but I needn't have worried." (Phasmarhabditis hermaphrodita are harmless – unless you happen to be a slug!)
"I followed the instructions like it said on the packet and then just watered them in. The whole 'biological control' thing sounded scary and complicated when I first heard about it, but actually it couldn't have been simpler – and boy, did it work! I saw results in only a few days."
Ongoing Control
Two summers on and Karen has her slug problem well and truly under control. Each year, as soon as the soil begins to warm up in spring through into early autumn, every six weeks or so Karen waters a new batch of nematodes into her soil – and she gets to enjoy her plants in a largely undamaged state.
"It's funny, I've gone from being quite horrified at the thought of releasing hordes of bugs into my garden to almost looking on them as friends! I'm glad I took the garden centre's advice; Misty's getting a bit slower these days and tends not to wander too far, but the kids are all over the place. It's so brilliant not having to worry about pellets and I don't want to tempt fate, but it's even better being able to forget about slugs!"
You might also like...
But don't Nematode worms SLOWLY eat the Mollusc from the inside out? Wouldn't they then feed on the wildlife (Birds, Frogs, Badgers, Hedgehogs, etc, ect that can only survive on uninfected slugs and snails? How long will the Birds be singing in the trees with no food? It's crazy.
Richy.
- 6-Apr-11 @ 4:13 PM